Nigerians React To Buruji Kashamu's Death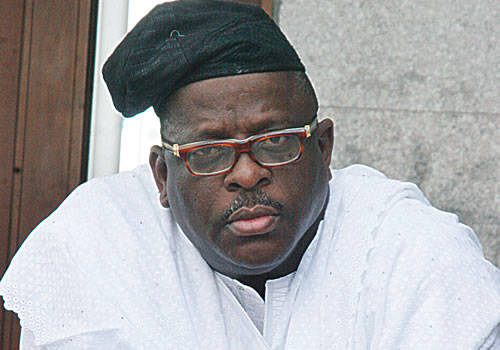 A storm of reactions by Nigerians has greeted Senator Buruji Kashamu's death.
Naija News had reported earlier that Senator Kashamu who represented Ogun East senatorial district in the 8th National Assembly died at First Cardiology Consultants in Lagos, Nigeria's commercial city on Saturday.
Senator Kashamu died from complications related to coronavirus (COVID-19) at age 62, a tweet on the micro-blogging site, Twitter by Senator Ben Bruce confirmed the development.
"I have just lost my good friend of forever to #COVID19. Until his death, Sen. Buruji Kashamu and I were inseparable. He died today at First Cardiology Consultants, in Lagos. May his gentle soul rest in peace. I pray his family and loved ones the fortitude to bear this heavy loss," Bruce tweeted.
Moments after the news of Buruji Kashamu's death went viral, Nigerians took to the micro-blogging site, Twitter to react to the news with some mourning the dead senator while others berated him for not building a better health facility while he was alive as a government official.
Naija News captured some of the reactions below…
I have just lost my good friend of forever to #COVID19. Until his death, Sen. Buruji Kashamu and I were inseparable. He died today at First Cardiology Consultants, in Lagos. May his gentle soul rest in peace. I pray his family and loved ones the fortitude to bear this heavy loss. pic.twitter.com/OJGIt0VK3n

— Ben Murray-Bruce (@benmurraybruce) August 8, 2020
Shocked and saddened to hear about the passing of my friend and brother Senator Buruji Kashamu as a result of Covid 19. May the Lord honor and reward him with a place in heaven & may He forgive him of all his sins. RIP my old friend. You fought a good fight & we shall miss you. pic.twitter.com/L8V829nCwL

— Femi Fani-Kayode (@realFFK) August 8, 2020
Another politician is dead, due to the failed health system they created. if they had their chance, they would have been flown abroad ..Pirlo Buruji Kashamu #BAYCHE https://t.co/2jusvAip0C

— Standoski ™ ? (@real_standoski) August 8, 2020
I thought that you are a decent man Mr Bruce, why are you lying against the dead?. Buruji Kashamu is a thief and he is definitely rotting in HELL https://t.co/vlXOAOoYeo

— Okechukwu (@Okechuk87065159) August 8, 2020
Rest in Peace Senator Buruji Kashamu. I had been praying for a recovery story, but God knows best. May God comfort the family. ??

— Bolarinwa Olajide (@iambolar) August 8, 2020
Buruji Kashamu has died of COVID19. He has now been finally extradited to the great beyond. May God take control. Amen! pic.twitter.com/gW591Tbpek

— Jackson Ude (@jacksonpbn) August 8, 2020
Buruji Kashamu's death leaves one with mixed feelings – a man who embraced all that he was and never apologised for any bit of what he was not.

A brutal operative who only knew how to stay on the offensive always, a bull and a bully.

Those who sought him can now close the file.

— Demola Olarewaju (@DemolaRewaju) August 8, 2020
Buruji Kashamu dead?. Do you know who that man is?. Read him up. Bruhh 2020 has been something.

— YAADMAN (@YungLMrmarley) August 8, 2020
To all our dirty and corrupt politicians I hope y'all now know that no matter how much you steal and destroy people's lives death will come for you somday… Senator buruji kashamu too has gone .. one down many more to go. pic.twitter.com/b03KGjLK0E

— Alex Teflondon ? (@lex_teff) August 8, 2020
Download NAIJA NEWS app: