Nigerians React As Pastor 'Claims' No Girl Will Make Heaven, Gives Reason
The viral video of a pastor who allegedly used a theme that claims 'no girl will make heaven' has gone viral on various social media platforms.
The clergy, identified as Pastor A.N Brown, released a flier for a program tagged "God does not have a girl child… and no girl will make heaven".
The programme which held as a Facebook Live event on June 25 has only recently gone viral and has attracted many reactions from social media users.
Naija News understands the pastor in his message, clarified that: "Every born again child of God is born by the spirit and spirit does not have gender classification.
He added: "Gender only exists in the flesh."
However, despite his explanation, he was still called out both on Facebook and Twitter for what many believe to be his wrong choice of words.
Some others believe the pastor intentionally chose the words as a clickbait and have continued to call him out for such action.
See some reactions: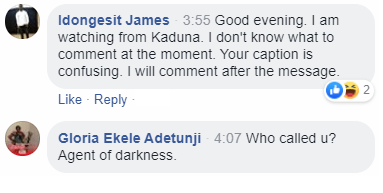 I've laughed non stop since I saw this event flyer.

The devil is busy and he is using misogynistic mindsets to create an anti-Christ movement.

A movement that excludes women in the salvation plan is satanic.

Wow, this is pitiable. pic.twitter.com/g7IXZuUWEq

— Bibi Babatunde-Ikotun (Aug 4 baby) (@bibilamour04) July 29, 2020
I just visit his Facebook page
The caption was misled..
He did that as a bait to draw crowed
His point was that, there's neither male nor female in Christ
We're all sons
Gender only exit in the natural
But with spirits, we're all one..

Though he has been corrected ,such is wrong

— Chinonso Johnson (@ChinonsoJohnso8) July 29, 2020
Attention-grabber gone wrong.
It's tactical to say something jarring and seemingly scandalous to grab people's attention.
This is just wrong. It's good to read the room.

— Mayowa Daniel (@maydan2a) July 29, 2020
It should not even qualify as a joke, it's tasteless

— Bibi Babatunde-Ikotun (Aug 4 baby) (@bibilamour04) July 29, 2020
I guess he I assistant God ???

— Yoruba Princess ?? (@Ennyolamii) July 29, 2020
Download NAIJA NEWS app: