COVID-19: Sanwo-Olu Led Government Rolls Out Guideline For Re-Opening Of Businesses In Lagos State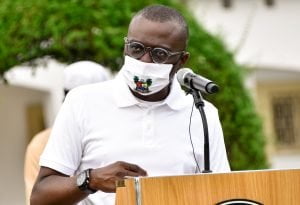 Governor Babajide Sanwo-Olu of Lagos State has rolled out a gradual guideline process for reopening of its economy in motion, with the rollout of Register-to-Open guidelines.
Speaking on the possibilities of curtailing the novel disease within the states as the economy resume full operation by next month, the Governor said  the four-page Register-to-Open guidelines were the major part of the measures initiated to achieve phased re-opening of the State economy.
Sanwo-Olu also said the weeks of inertia in the economy also had significant impact on Micro, Small and Medium Enterprises (MSMEs), stressing that millions of small-scale businesses operating in the State could completely fold up if the economy is not fully reactivated.
In addition to granting three-month moratorium to MSMEs that applied for loan facilities at the Lagos State Employment Trust Funds (LSETF), Sanwo-Olu said the State Government had started to compile data of registered MSMEs in the State for operational support that would cushion the effect of economic slowdown on their businesses.