Ramadan: Kaduna Church Distributes Food, Praying Materials To Muslims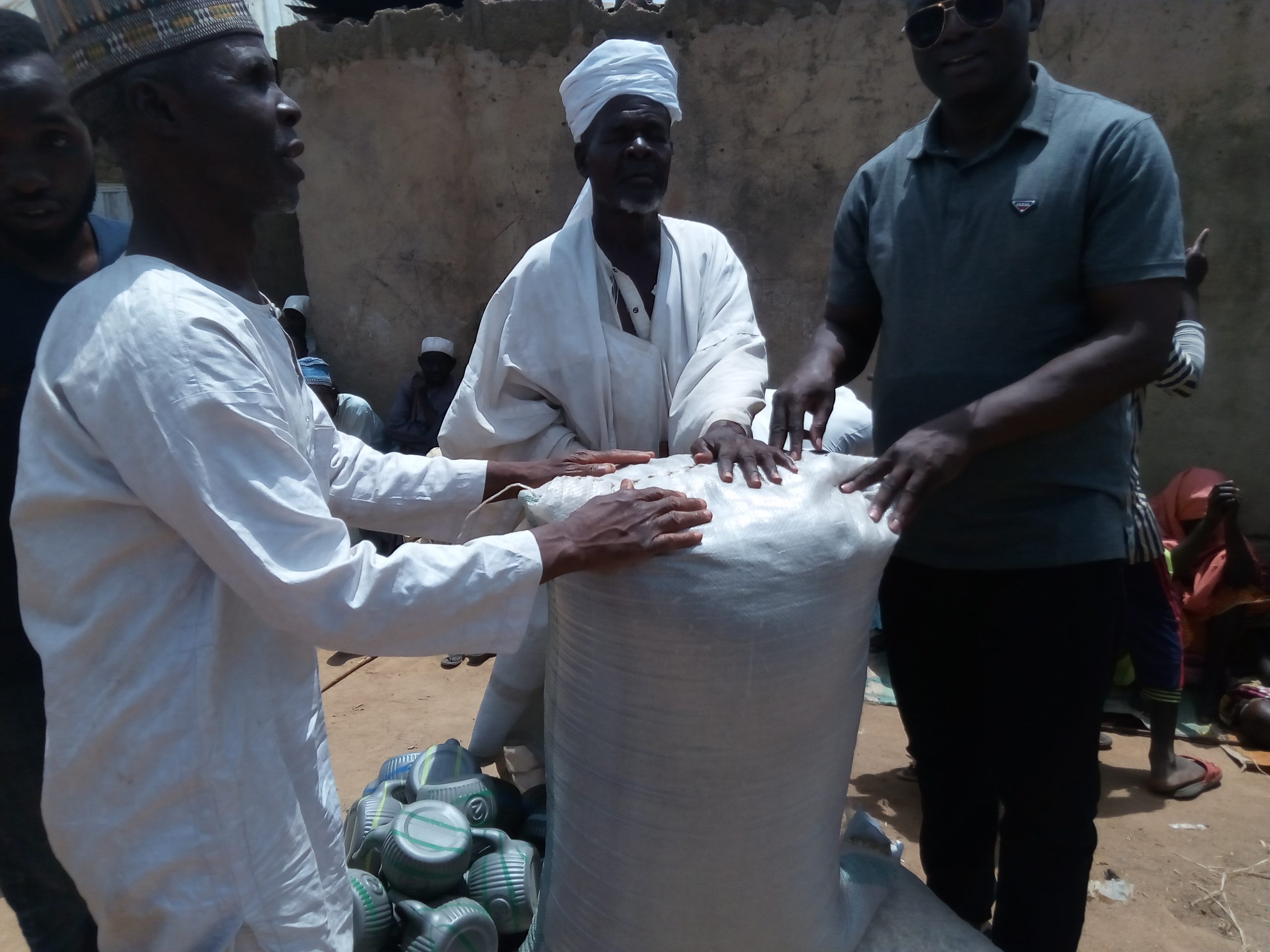 The Christ Evangelical Intercessory and Life Intervention Ministry, a Church located in Sabon Tasha, Kaduna state on Wednesday, April 22 extended their love to Muslims in the community by doling out food, praying materials, among others as they prepare for Ramadan fast.
The development was contained in a press release delivered to Naija News on Wednesday.
Naija News understands Pastor Yohanna Buru, founder and general overseer of the church on Wednesday with a  team of delegations from his congregation went out to Rigasa, a community in the Igabi local government area of the state to donate materials to the Muslims in the community as well as street beggars, and less privileged.
It was reported that the Church had distributed grains of foodstuff, praying materials to over 300 hundreds of less-privileged, destitute and poor Muslims, urging them to also use the Ramadan period to pray to God to end COVID-19.
Speaking on the donation, Pastor Buru said, "This is the Firth time the church is sharing bags of grains and other foodstuffs to large numbers of street beggars, internally displaced person, children in orphanages and Muslim prison inmates Across the state."
"last year we dole out bags of rice, maize and other food items to over 5 poor Muslims in the states, to enabled them to participate fully in the 30 days fasting and prayers of Ramadan."
He narrates further that in this year donation, the Church also added Matts and plastic kettle to the poor Muslims to enable them to pray in their homes, pray to God to bring an end to the continuous spreading of COVID-19 that has become a threat to the whole world, claiming lives daily.
"We do this every year to our brothers Muslims in Kaduna and some part of the northern region, in order to strengthen our relationship, boost peaceful co-existence, better understanding, and religious tolerance among different faiths based organization, so as to live in peace and harmony," said Buru.
"We want you to used the 30 days of Ramadan to pray to almighty God to bring an end to the continuous spreading of Corona-virus across the planet."
"Please used the 30 days of Ramadan and pray to God for COVID-19 cure."
Speaking about the stand of the God in giving out support to the needy, Pastor Buru said, "Bible and Qur'an say .there is need for humanitarians service, and We must remember that we worship one God, and we are from the family of Adam and Eve, and we believed in paradise and heal, so therefore we must join hands to support each other."
He also urges all Muslims including the Imams to intensify prayers for peace and unity of the country.
On her part, while receiving the donations, Malama Jummai Mohammed, the chairperson of the women association of person with a disability in Rigasa, who speaks on behalf of others thanked the Church for such an expression of love towards them, giving out their resources for Ramadan.
She said, "As the Ramadan is about to start, there is nothing to eat in their houses, stressing that they have to come out and beg for food to eat.
"Coronavirus and high cost of foodstuff is really disturbing,"
"No one care for us, no one think about us, No one thinks of helping us in this Ramadan, only the Christians brother"
"Am begging on our wealthy Muslims to come and help us with foodstuff to enabled us stay at home and pray for the nation."
See some photos below: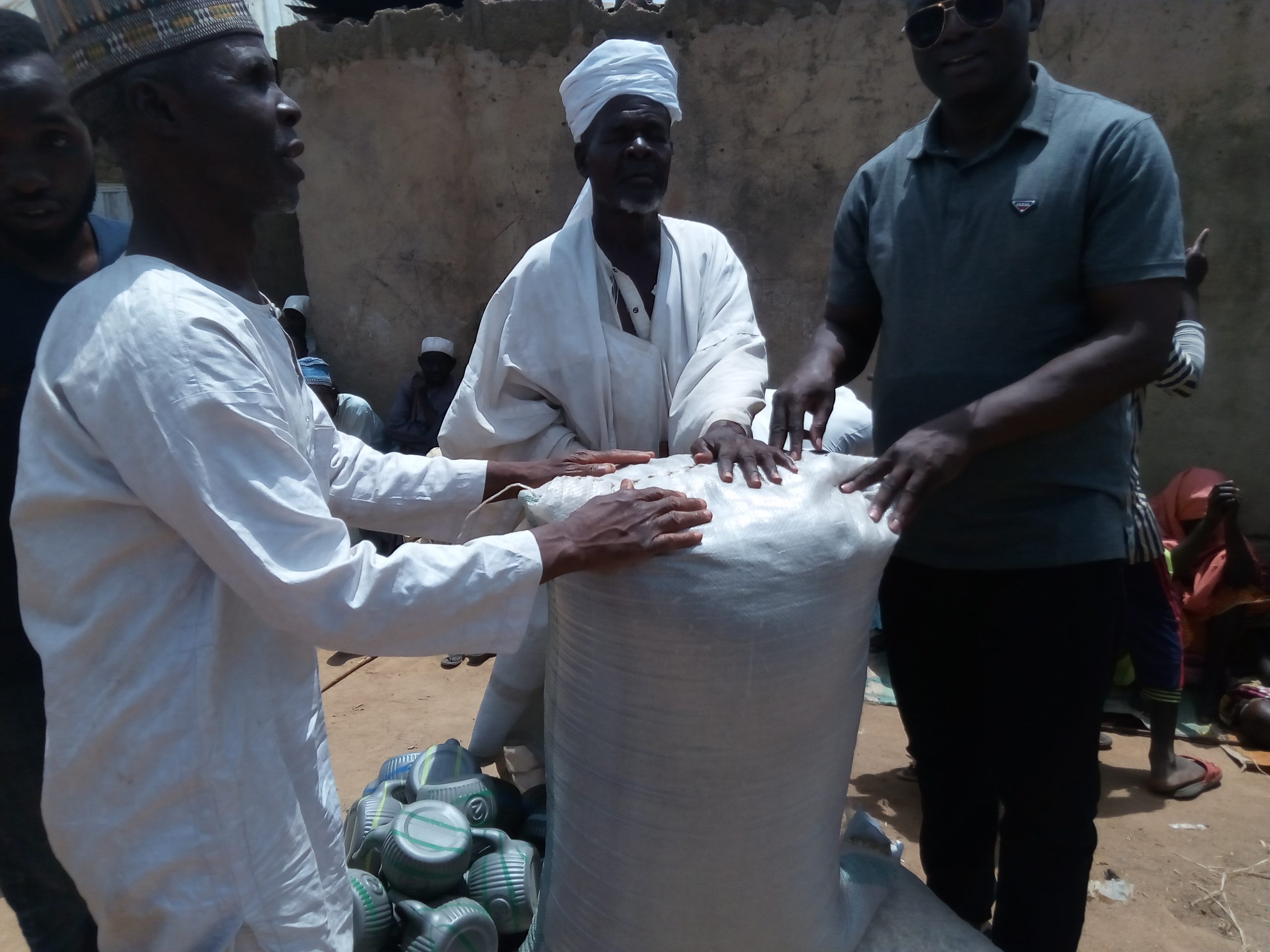 Meanwhile, the Sultan of Sokoto, Muhammadu Sa'ad Abubakar, a week ago called on Christians and Muslims in the country to work together.
The Emir stated this in his Easter message to Christians, on Sunday and was contained in a statement signed by NSCIA Director of Administration, Yusuf Nwoha.