In Japan, Advanced Technology Helps Seniors To Live Better
In the last 60 years, the number of people aged 65 and over has almost doubled in the world, from 5% to 9 %. This phenomenon particularly affects Japan, which is, therefore, a pioneer. Here, almost a quarter of the population is 65 or older.
Ageing societies are now a big challenge for health systems. The goal is not only to live longer but above all, to live better. Recent technologies have given ideas to the private and public sectors in the field of health and innovation, to ensure a better quality of life for seniors.
These Japanese solutions were at the heart of an international summit in Tokyo, bringing together experts from around the world, government officials, start-ups, and foreign delegations. The Japanese strategy is to combine technology and medical data to create a digital health system.
The "ageing well summit" in Japan.
Erwin Böttinger, President of the Hasso Plattner Institute and Professor at the University of Potsdam is one of the leading experts in this field. "I'm really impressed by what's happening in Japan," he says, "the benefits of digitization and artificial intelligence for our citizens and societies … that's what will help us improve the system." of care and health in the future, but that requires us to have a good relationship with our own data."
Japan is introducing new regulations to allow the public and private sectors to use anonymous medical data.
Reduce the workload of caregivers
To see how this digital transition is going, the Sci-Tech team visited the Kyoto University Hospital.
Data collection begins in the patient's room. Nurses send information directly to servers such as blood pressure, heart rate, body temperature, clinical tests and treatments. This procedure reduces the caregiver's workload and improves the accuracy of data logging.
This large set of datasets makes it possible to be more precise and more efficient. It also provides information on how to manage the health system, disease prevention and drug production.
"We collect data to understand what is happening in this country, and what kind of treatment the population receives. Using this data, we can see the different treatments or care," says Tomohiro Kuroda, director of Kyoto University Hospital. " These data are anonymous, and the government is developing a system to share this information with everyone, so the private sector can use that data to create new medicines and treatments."
The Japanese health system relies on billions of data from almost 126 million citizens. A unique panel that could help other countries around the world according to Genta Kato, who works in the Health Insurance Department at the Kyoto University Hospital.
"More than 95 per cent of the care provided to the Japanese population is covered by this data system," he says, "and we typically use data on medical treatment and care as a whole for digital health." is a very ageing society, and I think our knowledge could be a reference for many other countries in the world . "
Japan is the world's second-largest health market, and all of these innovations have greatly influenced the private sector. The Sompo Future Care Lab project, for example, is developing advanced technologies to meet the new needs brought about by the ageing of the population.
The importance of the human factor
These new products include the AI Power Wheelchair, capable of moving alone on a pre-established path, a convertible bed, or body sensors for the bath and bed, which can help older adults to be more independent.
Shinichiro Kataoka is the head of Sompo Holdings' Future Care Lab . For him, technology improves the productivity of caregivers.
"One of the solutions, for example, is the assisted bed, which reduces the workload and reduces the number of caregivers required: to take care of heavy patients, for example, there is only a need to one person, instead of two," he says.
Beyond these high-tech solutions, the human factor remains important. It can facilitate interactions between patients and the skincare device, and can even help caregivers.
This is the case for example for virtual reality headsets, developed by Silverwood Corp. They show what people with dementia see, and help to better understand this pathology and how to treat these patients, says Tadamichi Shimogawara, president of Silverwood Corp.
"We do not want caregivers and patients to be divided, we want to create a relationship that is equitable, where everyone needs the other, and that content exactly reproduces the world as it is perceived by patients with dementia. The fact that we, people who do not have dementia, can experience it through VR allows us to understand the pain and hardship that these people experience, and this technology allows us to experience all of this on our own."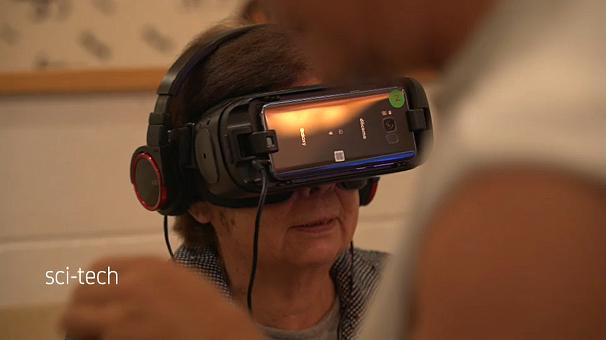 A life expectancy of 100 years
An experience that seems to be paying off. "I feel like I've learned a lot more about dementia than I could learn from books," says a caregiver from Tokyo.
This combined approach, which promotes the use of leading-edge data and technology to develop a next-generation health care system, makes Japan a true think tank.
And the high quality of Japanese medical data could open up new business opportunities internationally.
"The success of the Japanese approach will be contagious and motivate citizens to embrace this concept, so that across Europe, in the developed world and in the developing world, we will have a unified approach: moving towards digital health", estimates Erwin Böttinger.
International collaboration will be essential to maximize the potential of digital health innovation and to build a society where life expectancy will reach 100 years.
Source: Naija News