Fela Kuti: Return On The Life And The Fight Of The "Black President" In Ten Dates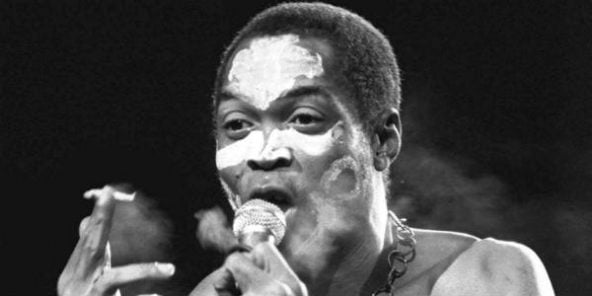 On August 2, 1997, in Lagos, singer and multi-instrumentalist Fela Anikulapo Ransome-Kuti breathed his last breath. Twenty-two years later, back on the course of the father of Afrobeat in ten dates.
October 15, 1938
It is in Abeokuta, in southwestern Nigeria, that Olufela Olusegun Oludotun Ransome Kuti was born into a bourgeois family and, above all, engaged. His mother, Funmilayo Ransome-Kuti is a feminist nationalist-activist who heads the women's market movement in the city of Abeokuta. She also plays a leading role in the independence struggle. As for his father, Oludotun Ransome-Kuti, he is an Anglican Reverend who chairs the Union of Teachers.
August 1958
Fela Kuti leaves Nigeria for England. Expected to study medicine in London, he joined the Trinity College of Music conservatory in the British capital and practised the trumpet. In January 1961, he married Remilekun (Remi) Taylor at Maidenhead. From this union, two girls and a boy are born: Yeni, Femi then Sola. With his musical apprenticeship, he also set up his own group Koola Lobitos.
1963
Fela finishes his studies and then returns to the fold. Now, singer and saxophonist, he remakes, at home, his group Koola Lobitos who cultivates music mixing high-life and jazz. At the time, the band went on to concerts at Africa Shrine, Lagos club opened by Fela. Drummer Tony Allen joins his equipped. With the Koola Lobitos, he went on tour in the United States in 1969. He discovered the Black Panther movement and, above all, the pundits of free jazz. In Los Angeles, he recorded The 69 'Los Angeles Session.
1970
Fela Kuti renames his group Nigeria 70 and Africa 70 to mark his attachment to pan-Africanism. High-life, funk, psychedelic rock, jazz but also traditional songs and rhythms are the components of his music. This is the birth of Afrobeat – which owes a lot to Tony Allen's drumming. This is also the year in which Fela's first hits come out: "Jeun K'oku" followed by "Black Man's City" and "Buy Africa". The themes of his songs change dramatically. In his words, he now evokes the social problems and the political situation of his country. He chooses to trade Yoruba for pidgin (English Creole) to reach a wider African audience. In the 70s, the singer and musician become increasingly contentious with records like Why Black Man Dey Suffer(1971), Shakara (1972) or Gentleman (1973).
April 1974
Fela Kuti is arrested and then imprisoned by the police. He is then suspected of holding grass. Subsequently, he composes "Expensive Shit". And the following year, from his house and recording studio in Mushin, in a popular suburb of Lagos, he declared the independence of the Republic of Kalakuta (inspired by "Calcutta", name of the cell he was in Alagbon Close prison, which will also be named after an album by Fela in 1975).
The place, which covers much of the city, becomes a real fortress, surrounded by a fence of 4 meters high, where meet its dancers and musicians. In this kind of alternative society, there is even a free hospital. In November of the same year, he was arrested again and hospitalized for more than two weeks.
1976
It's a prolific year for Fela. He records the famous Zombie album, whose eponymous title mocks the Nigerian military. He compares them to zombies because of their aggression and their blindness to orders. The song meets with great success and definitely marks Fela as a leading political opponent. He also publishes Kalakuta Show, Ikoyi Blindness or Yellow Fever.
https://youtu.be/Qj5x6pbJMyU
February 18, 1977
The Kalakuta Republic is invaded by a thousand soldiers. The sixty inhabitants are brutalized, beaten – some women are raped – and imprisoned. Fela's own mother is thrown out the window of the second floor of the family home. The artist and his orchestra go into exile in Ghana.
February 20, 1978
Once In Ghana, Fela marries the 27 women of his "republic", during a voodoo ceremony. In April, his mother, Olufunmilayo Ransome Kuti, dies after eight months of coma consecutive to the Kalakuta massacre. In September, Fela and his band perform at the Berlin Jazz Festival. Meanwhile, the army demolishes the Republic of Kalakuta. Tony Allen, tired of Fela's activism, leaves the group. Back in Nigeria, Fela formed his political party, the Movement Of The People (MOP). He will be disqualified in the presidential elections of 1979. That year, the album comes out punch Unknown Soldier in which Fela returns on the police raid on Kalakuta.
1980
Fela renames his group "Egypt 80". This is the beginning of a prosperous period in terms of recordings for three years. But, in 1984, he is once again incarcerated by the authorities for possession of narcotics. Three years later, while barely out of prison and preparing to fly to New York, the military regime of Muhammadu Buhari sent him behind bars for illegal currency trading. Sentenced to 10 years in prison, Fela will be released after an 18-month lock-up thanks to the mobilization of Amnesty International and many artists. In 1987, Fela was invited to Burkina Faso by President Thomas Sankara. After the assassination of the latter, on October 15, he dedicates the album Underground System to him. In 1989, he also recorded the famous Beasts Of No Nation in which he grapples political figures, figures of capitalism, like Ronald Reagan or Margaret Thatcher.
August 2, 1997
At the beginning of the 90s, Fela, weakened by his numerous passages in prison and by the disease, records three more records. But AIDS finally gets the better of him. At 58, he died in Lagos. One million people attend his funeral. To his son Femi, he leaves the task of perpetuating his legacy. A dozen days later, he is buried beside his mother under the eyes of a huge crowd. The military government even comes to declare a national mourning for "The Black President"