How Saraki's Hold On Kwara Was Destroyed – Lai Moh'd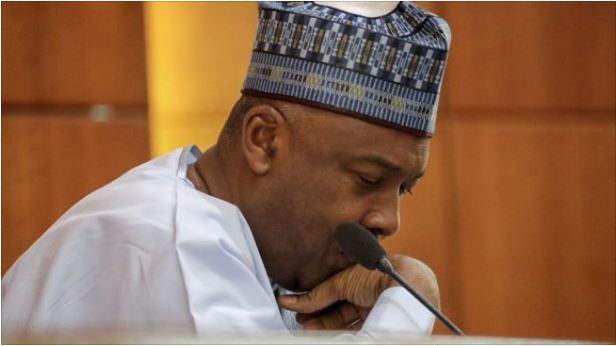 The Minister of Information, Lai Mohammed, has described the victory of the All Progressives Congress (APC) in the Kwara governorship election as the fall of 'Berlin wall of Kwara politics'.
INEC on Sunday declared the APC candidate in Kwara State, Abdulrahman Abdulrazaq, as the winner of the March 9 elections.
APC polled a total of 331,546, while PDP polled 114,754 votes.
Reacting in a statement obtained by Naija News, the minister said the victory of APC candidate, Abdulrahman Abdulrazaq, is the end of suffering of Kwara residents.
The statement reads: "The elections are over in Kwara State, and it is a clean sweep for our great party, the All Progressives Congress (APC). It is also a great victory for all the good people of Kwara.
"The Presidential and National Assembly elections ended 10-0 (3 Senatorial, 6 House of Representatives and 1 Presidential). Then the Governorship and House of Assembly election ended 25-0 (All 24 House of Assembly seats and 1 Governorship). The result is 35-NIL! Our brooms have swept the state clean!
"The long battle for the emancipation of Kwara started on Nov. 17th 2018, when our great party won the by-election for the Ekiti/Oke-ero/Irepodun/Isin federal constituency. The day after that victory, we told our people that it was the beginning of the fall of the 'Berlin Wall' of Kwara Politics. On Feb. 18th 2019, while responding to a derisive statement issued by Dr. Doyin Okupe on behalf of his boss, Dr. Bukola Saraki, we said the 'O To Ge' movement that fired the imagination of our people is set to finally bring down the 'Berlin Wall' of political hegemony in Kwara State and send Dr Okupe's boss into political oblivion. I am sure they laughed at us then.
"And On February 25th, 2018, the day after the Presidential Election, we said that the 'Berlin Wall' of Kwara Politics that first cracked on Nov. 17th, 2018 has cracked further, and will be finally brought down on March 9th. Today, we can confidently say that the 'Berlin Wall' of Hegemony Politics in Kwara has finally fallen, and it's for good.
"First, we give all gratitude to God for this victory. It is beyond our power. Then, of course, we thank most sincerely the good people of Kwara. To the long-suffering people of Kwara, this is your victory. You worked hard for it. You made incredible sacrifices, and your efforts paid off. You said 'O To Ge' and it came to pass.
"Thank you, thank you, thank you to all the good people of Kwara. Never again will anyone enslave you under the guise of dynasty or hegemony politics. Never Again!!!
"We thank the security agencies that provided the conducive atmosphere for our people to exercise their franchise without fear. We thank the leadership of our party at both the state and national levels. And our special gratitude goes to President Muhammadu Buhari, whose leadership and unflinching support propelled us to victory.
"Our victory here transcends Kwara State. It is a victory for all advocates of good governance everywhere. It is the triumph of good over evil, no matter how long it takes. It will forever be a reference point in the political history of Nigeria, and a hard blow to those who willfully turn the public treasury into their personal piggy bank.
"Now, the real work has just begun. The expectations of our people are very high. We cannot afford to disappoint them. We must ride on the wave of their enthusiasm and determination to deliver to them the dividends of democracy, for which they have been yearning. All our leaders, both elected and otherwise, must come together to channel the energy and vibrancy of our people to positive goals.
"We urge our party members and supporters to be magnanimous in victory. Yes, they can celebrate, but there is no room for vindictiveness or hatred. There is no room for violence of any kind. We are all Kwarans. The massive victory in Kwara State came on a peaceful note. We must maintain that and banish all the vestiges of violence from our state.
"It's a new day in Kwara State, and the sun is shining bright and beautiful once again! I thank you all for your kind attention."
Source: Naija News