Chimamanda Adichie Speaks On Four Writers That Inspired Her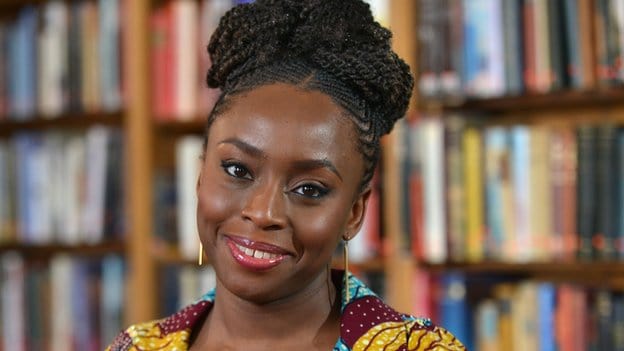 Popular Nigerian writer, Chimamanda Adichie, who is known for her feminism write-ups, has revealed four writers from Igbo tribe whose work inspired her.
The writer claimed that if the writers had not influenced her with their work her fans won't have been blessed with books like 'Half of a yellow sun and Americannah'.
"Igboland produced great writers, if Chinua Achebe, Flora Nwapa and Chi Emecheta and Chukwuemeka Nkem had not written the books they did, when and how they did, I would not have had the emotional courage to write my own books and so today I honour them and I stand respectfully in their shadow," she said.
It would be recalled that Adichie recently paid a visit to Nobel Laureate, Wole Soyinka, whom she had nice words for.
Sharing a picture of the both of them on IG, she wrote:
"You are, for me, a guiding light:
Your courage. The ease with which you inhabit your skin, speaking your mind, unburdened by an apology.
Your kindness and humour.
Your utter coolness.
The urgent, terse poetry of The Man Died, the exuberance of Ake; your faith in possibility, in adventure, in progress.
Yes indeed, 'the mindless ones are neither the total sum nor the true face of humanity.'
Thank you, Prof.
CNA"
See post below: