Biafra: Finally, Nnamdi Kanu Reunites With Family In UK (Photo)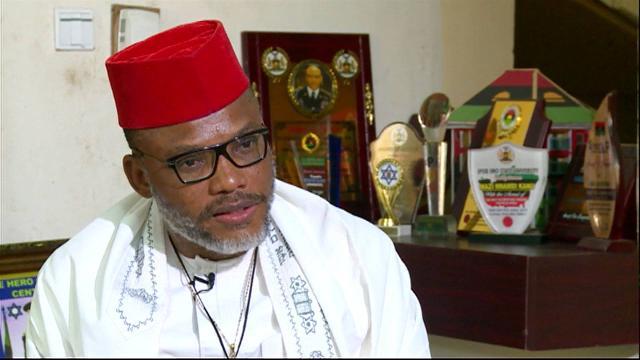 The leader of the proscribed Indigenous People of Biafra (IPOB), Nnamdi Kanu, has finally reunited with his family in the United Kingdom.
Naija News reports that Kanu relocated to the UK recently from Israel where he resurfaced last year October after the military invasion of his community in Abia state, southeast Nigeria.
"I am back in the UK to continue our excellent work to liberate #Biafra from the pit of darkness, Nigeria. Fulani cabal with their Herdsmen, ISIS and Boko Haram must not be allowed to conquer us. Let Justice Onnoghen's humiliation unite us as one Biafran family," the IPOB leader had announced in a tweet January 26.
Days after the tweet, a photo of the secessionist leader has now emerged online, showing Kanu dining with his wife and son.
Naija News learned that the meeting was the first time the IPOB leader reunited with his son since his birth in January 2016.
This online news platform recalls that the wife of the IPOB leader, Uchechi Kanu, gave birth to Kanu's son in 2016 while the secessionist leader was still in detention.
IPOB had announced the child's birth in a message posted on the group's Facebook page at the time but was silent on the place the child was delivered.
"Good morning great Biafrans. With joy in our hearts and celebration of new arrival to IPOB family, our first lady, the wife of our eminent leader, Joshua Nnamdi Kanu, has delivered a healthy baby boy. Mother and child are in good health," the post had read.
Naija News reports that Kanu is leading a group seeking secession from Nigeria. The group has since been proscribed by the Nigerian government.
Kanu's wife had said while her husband was in detention that the greatest mistake the Nigerian government made was to arrest him.
Ever since Kanu resurfaced last year, he has been alleging that President Muhammadu Buhari is an impostor whose real name is Jubril Al-Sudanni from Sudan, an allegation which the President had since debunked.
Kanu touched down on at Leeds Bradford Airport in England for "further diplomatic movement aimed at Biafra referendum."