Ambode's Wife Pleads With Bola Tinubu To Change His Mind Over Her Husband's Second Term Bid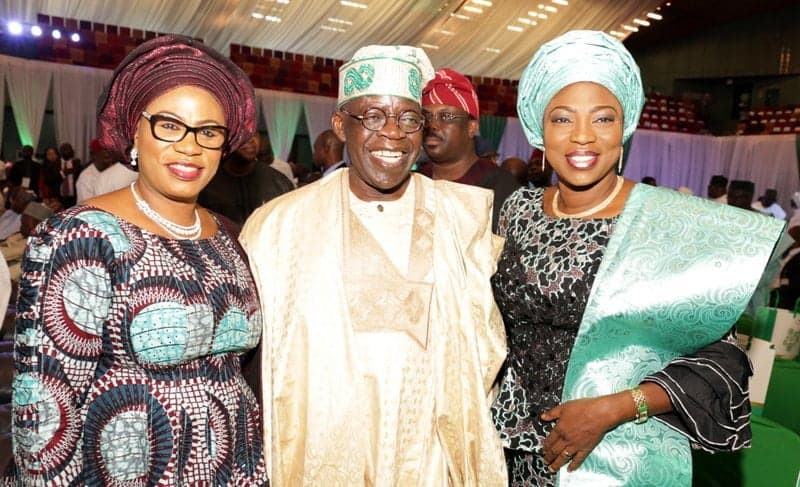 The wife of the Lagos State Governor, Bolanle Ambode, in bid to  to save her husband's job  yesterday, sought audience with the National Leader of the APC, Asiwaju Bola Tinubu, and tried to pacify him to change his mind.
https://twitter.com/Barbara20501/status/1042307577164582913
Niaja News understands Mrs Bolanle, who followed her husband to Osun State for the All Progressives Congress mega rally to support the party's governorship candidate but was unable to pacify National Leader of the APC, Asiwaju Bola Tinubu to change his mind.
#CabalAlert Association of Waste Managers of Nigeria – They are supporting Sanwo-Omogo | Lagos gov ticket: Ambode's wife fails to change Tinubu's mind https://t.co/s4LQPikiKM

— tyro (@DoubleEph) September 19, 2018
It was gathered that her efforts did not yield any result as Tinubu was said to have "received her cordially and joked with her."
"At a point, she became emotional despite the fact that many party leaders were there. But Asiwaju (Tinubu) did not give her the answer she desired. He merely treated her with courtesy," one of the sources said.
The governor and Tinubu have been in the news in the past few days over the second term bid of Ambode. Tinubu had allegedly refused to support Ambode's second term ambition despite pleas by notable people in the state and the country.
They said Ambode's wife begged Tinubu to no result. Should Ambode keep begging?
Which team are you on – Tinubu or Ambode?

— Olaoluwa Awe (@thenewzlady) September 19, 2018
Instead, the Tinubu-led Mandate Movement in the Lagos APC had backed Babajide Sanwo-Olu, who obtained his form last Tuesday.
Sawo-Olu, a former commissioner in the state on Sunday formally declared his intention to vie for the Lagos State governorship ticket of the APC, promising to restore the glory of the state. Notable APC leaders in the state, who were either allies of Tinubu or his followers, were at the declaration.
Sometimes, the sins we commited today comes back to hurt us tomorow.
In 2017, their was news of ambode's wife slapping a priest because he didn't give her a preferential treatment during communion session.

— Qudus OIanrewaju Layeni 🇳🇬 📿 (@QLayeni) September 17, 2018
Meanwhile, sources said the Mandate group had started wooing another aspirant on the APC platform, Dr Obafemi Hamzat.
It was gathered that Tinubu's men wanted Hamzat, who is from the Lagos East like Ambode, to become the deputy governor with a promise that he would supervise a ministry and also nominate two commissioners into the cabinet.
Hamzat campaign team could not be reached on Tuesday for comment.
The Lagos APC will hold its primary next week to decide who will be its governorship candidate in 2019 election among the incumbent Ambode, Sanwo-Olu, and Hamzat.