Ojukwu's Wife Declares For Anambra Senatorial Seat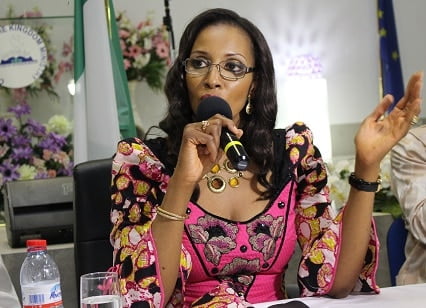 Bianca Ojukwu Says She Wants To Continue Late Husband's Legacy.
Former Nigerian Ambassador to Spain and widow of late Igbo leader, Dim Chukwuemeka Odumegwu Ojukwu, Ambassador Bianca Ojukwu, has formally declared her interest to contest for the Anambra South Senatorial seat.
She made the declaration yesterday in Ekwulobia in Aguata council, during a meeting with the stakeholders of the All Progressives Grand Alliance (APGA), in the old Aguata zone.
Ojukwu, in her address at the gathering, said she wants to continue with her husband's legacy, saying she wants to go to the senate to accomplish the dream of Dim Ojukwu, to liberate the Igbo from hardship and bondage.
"I've come here, today, to reaffirm that I wish to represent our senatorial district at the red chamber. Why is it important? It is important because our people need to be represented appropriately.
"Igbo have suffered so much in this country, and have continued to suffer. Our leader, Dim, suffered so much for our people. Evil prevails when good people sit and do nothing; to seat down and be an armchair critic means you are at home with the evil, that is why I came out to make a difference. So, if you want the evil to stop, my people, send me, and I will get our dues. We must identify with APGA, I've laboured tirelessly for this party and I will continue to protect the ideals of the party," she said.
Former governor of Imo State and governorship aspirant, Chief Ikedi Ohakim and multimillionaire, Dr. Godwin Maduka, who attended the event also rallied their support for the senatorial aspirant.
In his remark, Ohakim appealed to others interested in the seat to see the need to step down for Ambassador Ojukwu, as a mark of respect to her late husband.
"Bianca Ojukwu has what is called double legacy and double identity," noting that her father, late C.C. Onoh, single-handedly built a house for M.I. Okpara. Bianca is not an ordinary human being; she is a spirit and the identity of the Igbo man. Bianca has suffered for us, the Igbo, by sacrificing everything to be by our leader, Ojukwu, till death.
"I beg all others who want to be senators in this zone to please respect our late leader, Ojukwu and father Onoh, by stepping down for Bianca Ojukwu."
On his part, Maduka said "I'm here to respect our leader, Dim Ojukwu. The new Igbo nation means that we have to allow people who can speak for us, speak for us. We have to send people who can give us adequate representation; we don't want anyone who will go to represent us for his personal good."