How Khadijat's Boys Killed Her In My Room – Boyfriend Reveals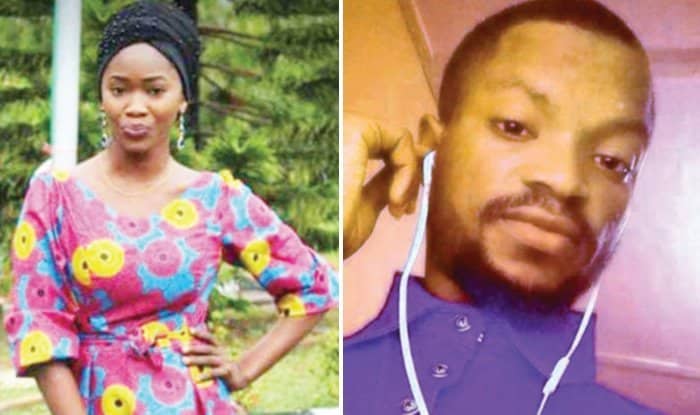 Saidu-Shakiru Adeyemi, has denied having any hand in the death of his murdered girlfriend, Miss Khadijat Oluboyo, daughter of Lasisi Oluboyo, former deputy governor of Ondo State.
Adeyemi denied having a hand in the death of Khadijat when he spoke to journalists at the headquarters of the Ondo State Police Command on Wednesday in Akure.
Oluboyo, the 25 year-old final year student of Adekunle Ajasin University, Akungba Akoko, was on Sunday found dead at the home of her boyfriend in Akure.
Adeyemi, who just finished serving in Abuja in 2017, said that Khadijat brought two boys to his house where they both killed her.
Adeyemi said he had dated Khadijat for four years after which they parted ways but eventually reconciled during the last Ramadan celebration.
He said that Oluboyo came to his house on Thursday because of her project which he was helping her to do.
According to him, they had finished chapter one and her supervisor had already approved it and she came for final correction so that she could move to chapter two.
"Meanwhile, on Saturday she snapped both the soft and hard copy of her project to me on my whatsApp for correction.
"On Monday, I believed she was already in school when she sent me a text message to send her N2,000. But I was able to send only N1,000.
"So, I was surprised when I heard a knock on my door later in the day and she entered my room.
"She later told me that she wanted to receive some visitors in my place, and few minutes later she brought two boys in. I was not surprised because that was not her first time to bring someone to my house.
"Later when they came in, we exchanged greetings and I left them in the room. But after 30 minutes, one of the boys called me in and I discovered he held a small gun in his hand while the other boy was on her, naked.
"And I heard Khadijat saying "I will not tell anybody". The boy strangled her to death and threatened me not to shout or else they would kill me.
"They later forced me to find a digger with which they dug the ground in my room and buried her
"They are the ones that killed and buried her. I could not shout after they left because of the implication of what has happened, for I was sure nobody would believe me.
"On the fifth day, I was not comfortable anymore, so I exhumed her body and confided in my younger brother who advised that we should inform our father about the development.
"It was my father who informed the police before I was arrested," Adeyemi said.
The Police Public Relations Officer(PPRO) of the command, Mr. Femi Joseph said
who paraded Adeyemi with other suspects, said he would soon be charged to court after completion of investigation.
Read More News. Download Naija News App. Send us enquiries and press releases.