Watch Chimamanda's Video Where She Spoke On Opening Doors For Women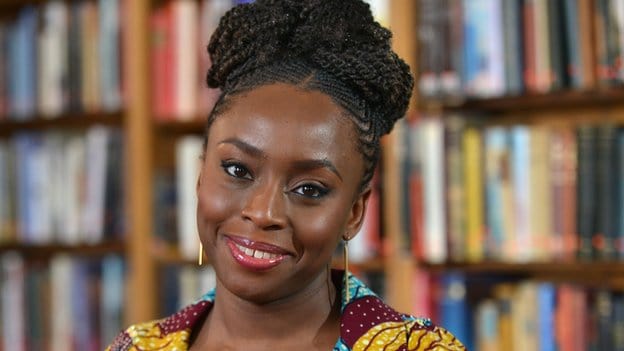 Chimamanda Adichie Addresses Issue Affecting The Female Gender
Chimamanda Adichie, renowned Nigerian author and feminist, has denounced some preferential treatments given to women.
While speaking on an American programme, "The Trevor Noah show", a daily show, She spoke against giving women and children aids first in emergency cases and holding doors for women , just because they are perceived as weak.
The show is an Emmy and Peabody Award-winning one that looks at the day's top headlines through a sharp, reality-based lens.
She noted that holding the door for a woman should not be because she is perceived as weak, or out of chivalry, but that people should be willing to open the door for anyone, regardless of gender.
She said, "I think, just like holding the door shouldn't be gender-based because we should open the door for everyone.
"I hold the door for men and women. I think the idea of sort of holding the door for a woman because she is a woman, I have trouble with.
"I'm quite happy for people to hold the door for me; I hope they are not doing for the sort of idea of chivalry.
"Because chivalry is the idea of women are somehow weak and need protection, but we know that there are many women who are stronger than men," she said.
She expressed her displeasure at how in cases of emergencies, women and children are given preferential treatment.
Adichie said, "Which is also why I have issues with women and children when women are classified. When there is a tragedy and we say women and children should live first…
"I think actually it is the people who are weak and unwell who should leave first," she said.
See the video:
"Men have to be on board. You can change women all you want — if you don't change men, nothing changes. Because we share the world."

Chimamanda Ngozi Adichie explains why men are important for the feminist movement: https://t.co/6VPXNGVq7w pic.twitter.com/nRMuQGvDgO

— The Daily Show (@TheDailyShow) June 7, 2018
https://www.naijanews.com/wp-content/litespeed/localres/platform.twitter.com/widgets.js