Pedro Sánchez Becomes Spain New Prime Minister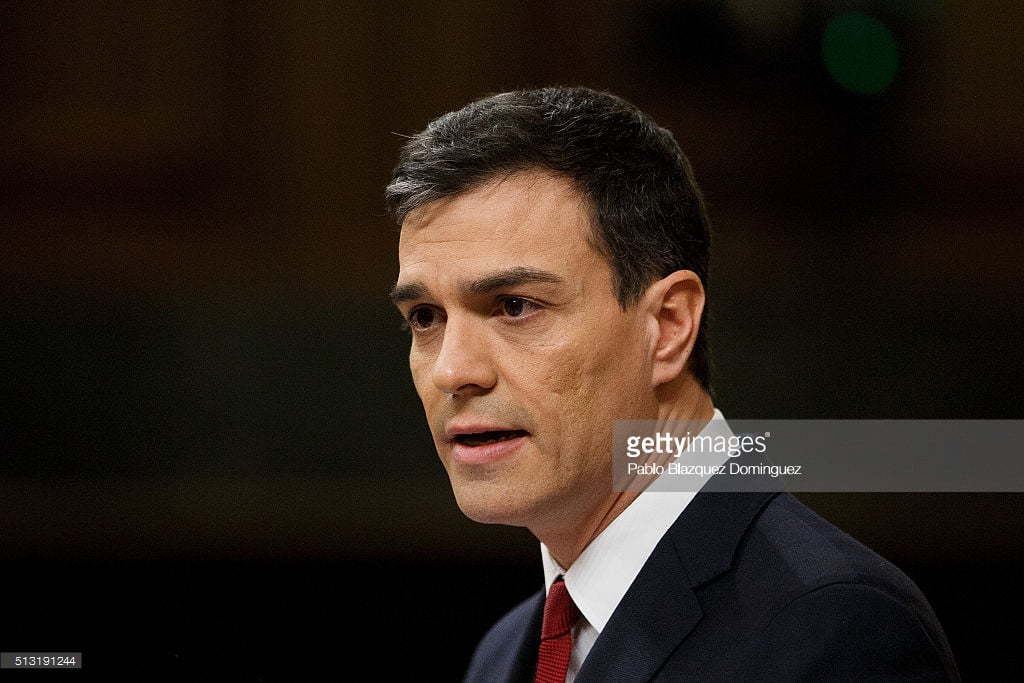 Spain's Socialist leader Pedro Sanchez has been  sworn in as  the new Spanish prime minister today,  after ousting Mariano Rajoy in a no-confidence vote in parliament sparked by fury over his party's corruption woes, Naija News Understands.
https://twitter.com/simoninmadrid/status/1002846730889695233
At a short ceremony attended by outgoing PM Mariano Rajoy and King Felipe VI, Pedro Sánchez of the Socialist Party has just taken office as prime minister of Spain https://t.co/SiiBeBrmd1

— Simon Hunter (@simoninmadrid) June 2, 2018
https://www.naijanews.com/wp-content/litespeed/localres/aHR0cHM6Ly9wbGF0Zm9ybS50d2l0dGVyLmNvbS93aWRnZXRzLmpz
Sanchez, a 46-year-old economist with no government experience, will take the oath of office at 11:00 am (0900 GMT) before King Felipe VI at the Zarzuela Palace near Madrid.
After leading the Socialists to two crushing general election defeats in 2015 and 2016, Sanchez was forced to resign by the party apparatus.
But he was reelected as party head by members in 2017, and managed to oust Rajoy, a 63-year-old veteran politician who had been in power since 2011.
In his first comments after winning the no-confidence motion, Sanchez, a former basketball player, vowed to tackle "all the challenges which the country faces with humility".
But he will struggle to govern as his Socialists have just 84 seats in the 350-seat parliament, and his minority government is supported by a hodgepodge of disparate parties, including far-left Podemos, Catalan separatists and Basque nationalists, with diverging interests.
All of his allies in the no-confidence motion stressed their vote against Rajoy was not a blank cheque for Sanchez.
"Our 'Yes' to Sanchez is a 'No' to Rajoy," is how Joan Tarda, speaker of Catalan pro-independence party Esquerra Republicana de Catalunya (ERC), put it in parliament.
Sanchez will only be able to implement policy initiatives "that allow him to obtain an easy majority" in parliament, said Fernando Vallespin, political scientist at the Autonomous University of Madrid.
PP lawmaker Rafael Hernando said Sanchez would be entering the prime minister's office "through the back door" after failing to win 2015 and 2016 general elections.
Sanchez has already tied his hands by promising to respect Rajoy's 2018 budget, which includes generous concessions to the northern Basque region.
He has also said he wants to "build bridges" with Catalonia's new separatist government, headed by Quim Torra, which will take office on Saturday at the same time that Sanchez takes his oath of office.
The parties that supported Sanchez will make demands he will not meet, predicted Pedro Fernandez, a 68-year-old pensioner, outside of parliament.
"When he does not do what they want, they will remind him that they brought him to power. And in five or six months we will either have fresh elections or they will oust him," he added.