National Assembly Yet To Forward Petroleum Industry Bill To Buhari – Presidency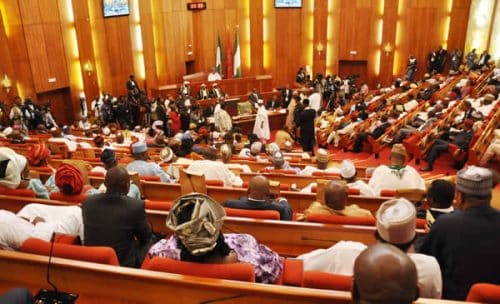 NASS Delays In Submitting Petroleum Bill To President Buhari
President Muhammadu Buhari is yet to receive a copy of the Petroleum Industry Governance Bill recently passed into law by the National Assembly.
The National Assembly on March 28 had presented the harmonised version of the bill.
There have been media reports indicating that the clean copy has been sent to Buhari for presidential assent.
But the Senior Special Assistant to the President on National Assembly Matters (Senate), Ita Enang, in a two-paragraph statement made available to journalists in Abuja on Wednesday said Buhari has yet to receive the bill.
The statement, dated May 16, was titled "Re: Petroleum Industry Governance Bill."
Enang noted that his investigation revealed that the bill was still "undergoing standard legislative processes of the National Assembly," preparatory to transmission.
"Further to several enquiries by the media, interest groups, and the public in respect of within named bill, may I please state that the said bill has not yet been transmitted by the National Assembly to the President.
"From my enquiries, the bill is still undergoing standard operating legislative processes of the National Assembly preparatory to transmission, please." Enang said
The chairman of the Senate Committee on Petroleum Resources (Upstream), Omotayo Alasoadura, had earlier been quoted as saying that the harmonised bill would be presented to Buhari on March 30.
The initial delay was thought to have been caused by the fact that March 30 was declared a public holiday to commemorate Good Friday.
The bill, when signed into law, is expected to instill best global practice in the nation's oil industry.