EFCC IS Unapologetic About It "Selective Prosecution" – Magu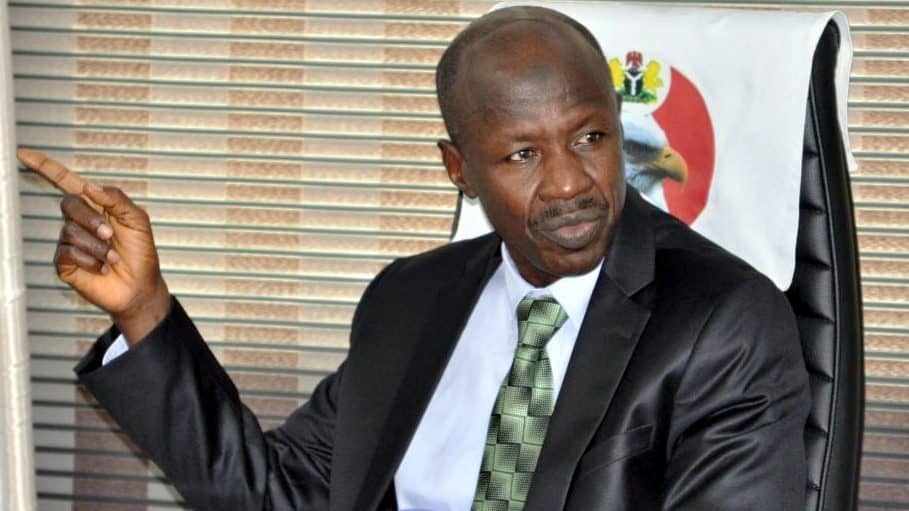 Acting Chairman of the Economic and Financial Crimes Commission, Ibrahim Magu, say the EFCC does not have any regrets over its prosecution of corrupt officials over the years.
Magu said this while taking Journalist round its newly-completed multi-million head office complex in Abuja.
He also responded to allegations by top officials that the anti-graft agency is selective in it corruption wars prosecutions.
Magu explained that it was important for the agency to be selective in the prosecution of the corruption war to ensure that only those who are guilty are prosecuted.
"We cannot just bundle accused persons into detention or charge them to court just to be seen to be to be fighting corruption when there is no evidence that they stole money anywhere," Magu said.
"That is why we check the records and where there is clear evidence that somebody no matter how highly-placed has stolen public funds, we arrest and charge them to court in line with our mandate.
"If doing that is what some of our critics call selective, we are happy to be doing that until looters have their day in court and return the loot to the treasury," the chairman explained.
He said, "Nobody who has not looted can be brought to EFCC and detained and prosecuted.
Magu said the anti-graft agency is unapologetic for the way it has been carrying out its duties over the years and thanked the media for its supports also.
Magu said, "I want to state that we have no apology whatsoever to anyone in fighting corruption. Without taking that approach corruption would have killed us. Whether looters like it or not, we will win the fight against corruption. We have already succeeded in creating the awareness that corruption is evil that must be eliminated before it destroys Nigeria.