Dangote Emerges 66th Most Powerful Person In The World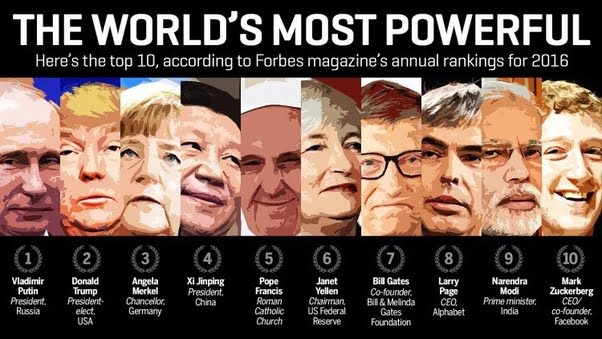 The 2018 Forbes World Most Powerful People list is out and Africa's richest man and Nigerian business mogul, Alhaji Aliko Dangote is the only Nigerian to make the 75 Most Powerful People in 2018.
He's pegged on 66th position coming a spot ahead of Vice President of the United States of America, Mike Pence who's pegged on number 67 on the list.
Four factors were taken into account to select each of the World's Most Powerful People: how many people over whom they have power; the financial resources they control; if they have influence in more than one sphere; and how actively they wield their power to change the world.
China's president, Xi Jinping for what he was able to pull off this year, is one the number 1 spot. In March, 2018, China's congress amended its constitution in March, eliminating term limits and broadening Xi's influence.
Russian President Vladimir Putin (No. 2) has been knocked out of the top spot, a title that he held for four consecutive years. President Donald Trump, a little over one year into his term, falls to the No. 3 spot.
See full list below…
#1
Xi Jinping
China
64
#2
Vladimir Putin
Russia
65
#3
Donald Trump
United States
71
#4
Angela Merkel
Germany
63
#5
Jeff Bezos
Amazon.com
54
#6
Pope Francis
Roman Catholic Church
81
#7
Bill Gates
Bill & Melinda Gates Foundation
62
#8
Mohammed bin Salman Al Saud
Saudi Arabia
32
#9
Narendra Modi
India
67
#10
Larry Page
Google
45
#11
Jerome H. Powell
United States
65
#12
Emmanuel Macron
France
40
#13
Mark Zuckerberg
Facebook
33
#14
Theresa May
United Kingdom
61
#15
Li Keqiang
China
62
#16
Warren Buffett
Berkshire Hathaway
87
#17
Ali Hoseini-Khamenei
Iran
78
#18
Mario Draghi
European Central Bank
70
#19
Jamie Dimon
JPMorgan Chase
62
#20
Carlos Slim Helu
America Movil SAB de CV (ADR)
78
#21
Jack Ma
Alibaba Group
53
#22
Christine Lagarde
International Monetary Fund
62
#23
Doug McMillon
Wal-Mart Stores
51
#24
Tim Cook
Apple
57
#25
Elon Musk
Tesla
46
#26
Benjamin Netanyahu
Israel
68
#27
Ma Huateng
Tencent Holdings
46
#28
Larry Fink
BlackRock
65
#29
Akio Toyoda
Toyota Motor
62
#30
John L. Flannery
General Electric
56
#31
Antonio Guterres
United Nations
69
#32
Mukesh Ambani
Reliance Industries Ltd.
61
#33
Jean-Claude Juncker
European Union
63
#34
Darren Woods
ExxonMobil
53
#35
Sergey Brin
Alphabet
44
#36
Kim Jong-un
North Korea
34
#37
Charles Koch
Koch Industries
82
#38
Shinzo Abe
Japan
63
#39
Rupert Murdoch
News Corp
87
#40
Satya Nadella
Microsoft
50
#41
Jim Yong Kim
World Bank
58
#42
Stephen Schwarzman
Blackstone Group
71
#43
Khalifa bin Zayed Al-Nahyan
United Arab Emirates
70
#44
Haruhiko Kuroda
Japan
73
#45
Abdel Fattah el-Sisi
Egypt
63
#46
Li Ka-shing
CK Hutchison Holdings
89
#47
Lloyd Blankfein
Goldman Sachs Group
63
#48
Recep Tayyip Erdogan
Turkey
64
#49
Bob Iger
Walt Disney
67
#50
Michel Temer
Brazil
77
#51
Michael Bloomberg
Bloomberg
76
#52
Wang Jianlin
Dalian Wanda Group
63
#53
Mary Barra
General Motors
56
#54
Moon Jae-in
South Korea
65
#55
Masayoshi Son
Softbank Corp.
60
#56
Bernard Arnault
LVMH Moet Hennessy Louis Vuitton
69
#57
Justin Trudeau
Canada
46
#58
Robin Li
Baidu
49
#59
Michael Dell
Dell
53
#60
Hui Ka Yan
Evergrande Real Estate Group
59
#61
Lee Hsien Loong
Singapore
66
#62
Bashar al-Assad
Syria
52
#63
John Roberts
United States
63
#64
Enrique Pena Nieto
Mexico
51
#65
Ken Griffin
Citadel LLC
49
#66
Aliko Dangote
Dangote Group
61
#67
Mike Pence
United States
58
#68
Qamar Javed Bajwa
Pakistan
57
#69
Rodrigo Duterte
Philippines
73
#70
Abigail Johnson
Fidelity Investments
56
#71
Reed Hastings
Netflix
57
#72
Robert Mueller
United States
73
#73
Abu Bakr al-Baghdadi
Islamic State
46
#74
Joko Widodo
Indonesia
56
#75
Gianni Infantino
FIFA