NDLEA Arrests Over 41 Persons Over Illicit Drug Trafficking In Edo State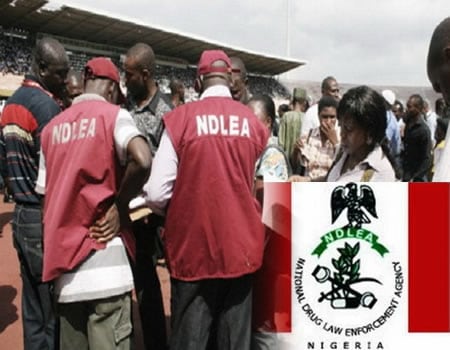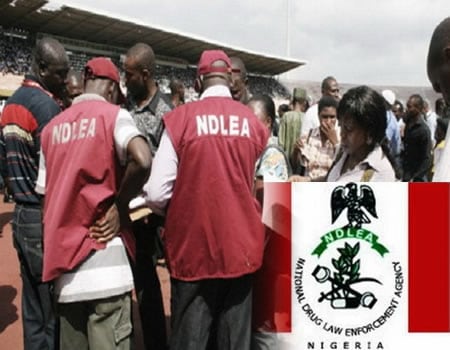 About 41 persons have been arrested by the National Drug Law Enforcement Agency, Edo State Command, for illicit drug trafficking in the state.
Mr Peter Ogar, the Assistant Commander and Head, Operations and Intelligence of the Command said the suspect were arrested for offenses such as possession, peddling and consumption in various parts of the state..
He noted that the suspects were 33 males and eight females.
He said within the period under review, they seized 449.2 Kilogrammes of substance suspected to be cannabis sativa and 18.64 Kilogrammes of suspected Psychotropic substances.
He added that four farms where they suspected cannabis were being produced were burnt during the period too.
The assistant commander said NDLEA would continue to do everything possible to rid the state of illicit drugs.
He expressed joy and applauded the federal government for banning codeine, stating that the use was becoming rampant amoung secondary school students.
Ogar was optimistic that with support from the federal government, the agency would ensure that patent medicine dealers and the Pharmaceutical companies in Nigeria enforce total compliance.
"So in effect, NDLEA can now enforce and charge any person in custody of codeine accordingly in line with the laws of the agency.''
The Federal Government has directed the ban of importation of codeine by the National Agency for Food and Drug Administration and Control.
The move by the FG was after experts claimed that codeine syrup used in the treatment of cough, when abused, could lead to full-fledged addiction that is potentially deadly.
The Minister of Health, Professor Isaac Adewole gave directive last Tuesday in Abuja.