Senate Postpones Deliberation On $1bn ECA Fund To Combat Boko Haram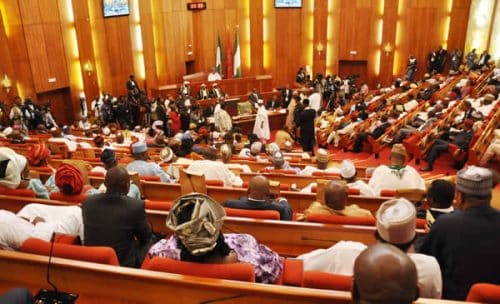 Sen. Sam Anyanwu's absence led to the postponement.
The Senate has postponed the deliberation on the proposed withdrawal of $1 billion from the Excess Crude Account (ECA) by the Federal Government to fight insurgency and other security issues in the country.
Naija News gathered that the postponement on Thursday, came after the Deputy Senate President, Ike Ekweremadu, observed that the deliberation on the issue which was scheduled for Thursday was not listed on the Order Paper.
Afterwards, the senate slated the matter to the next legislative day, following the absence of Senator Sam Anyanwu who was meant to present the motion to the house.
Senate President Bukola Saraki, therefore assured the lawmakers that the matter would be the first to be treated upon resumption.
He added that the ECA fund will not be spent until the senate debates on it.
He said, "The issue would have come up today but Sen. Sam Anyanwu could not present the motion today.
"He pleaded for more time and I agree that we move it to another legislative day, which is when we resume. It will be the first item on the Order Paper.
"It is an important motion that we cannot take if the person that moved it is not here. It cannot be delegated. I assure you that we will take it.