Two sisters burnt to death after their elder sister left home to visit her boyfriend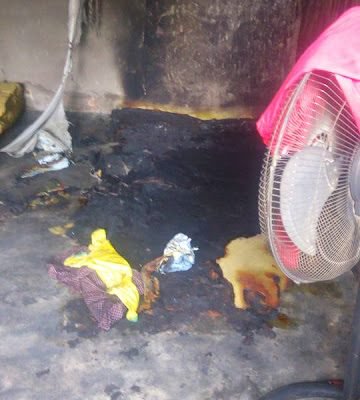 sisters were suffocated to death while sleeping in Agro Millers area Makurdi, the Benue State capital.
The lifeless bodies of two sisters, aged 10 and seven were found in the apartment after been killed by fumes from fire, which burnt only their mattress in the house.
Naija News learnt that the two girls were living in the same room with their elder sister of about 16 years, who locked them inside when she went to spend the night with her boyfriend.
An eye witness said: "I was sleeping when my neighbour woke me up that fire had killed two girls in a house around our neighborhood.
Read Also: Commotion in Apapa: Policeman kills three trailer drivers, angry mob sets bank on fire
"The girls and their elder sister have been staying in the same room since they left their village to school in Makurdi.
"But the eldest sister often left the room at night to his boyfriend's house. She always findss it difficult when coming back to sneak quietly into the room as it always takes several knocks on the door and windows before her younger ones opened the door for her.
"But yesterday, she locked the door outside with a padlock around 12midnight and left for her rendezvous with her boyfriend with the aim of coming back early as usual.
"However, the fire burnt the mattress where the two girls were sleeping. One of them suffocated and died instantly while the other tried unsuccessfully to open the door but couldn't as the door was locked from outside.
Read Also: Breaking: Aisha visits President Muhammadu Buhari in London
"A neighbour who noticed the incessant banging and cries of the girl came and forced the door open but unfortunately found one of the children already dead, while the other one, who was rushed to the hospital died before they could get there."
The elder sister reportedly came back the early morning the second day to meet her siblings corpse.