Libya returnees shares story of their painfull ordeals as migrants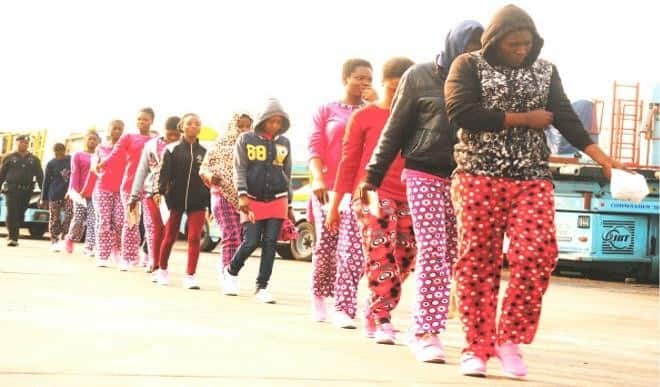 Returnees from Libya recently shared tales of anguish, pain and maltreatment and widespread hostilities they experienced in North African country.
It was mixed expressions of regret and relief on Tuesday when 161 Nigerians who voluntarily returned from Libya arrived the Murtala Mohammed International Airport (MMIA) Lagos after the International Organization for Migration (IOM) facilitated their return following months of harrowing experiences in the hands of Libyan nationals.
One of the returnees, a teenager, caused a stir as he held onto a piece of chicken from the food served for them by the Nigerian authorities. In a dramatic display, he said, "God, this is chicken, when last did I hold this, let alone eat it?" In Libya, this kind of luxury was impossible. There was humiliation, torture, beating, battering and all forms of dehumanizing treatment in their bid to make ends meet in Libya.
The return of 60 males (51 adults, two children and seven infants) and 101 females (92 adults, seven children and two infants) was facilitated by the IOM, acting on appeal from the Federal Government through the National Emergency Management Agency (NEMA) and the office of the Senior Special Assistant to the President on Foreign Relations and Diaspora Affairs which reportedly reached out to the international humanitarian body.
It is the first repatriation exercise this year with more expected to follow soon. About 1000 were repatriated from the country at different times in 2016. While some voluntarily returned home, others were deported for immigration related issues.
The last set deported last year was 140 arrived Nigeria on December 21st. On 10th of October, 152 people were deported; 241 on August 24 and 162 on June 16, among others.
Also, there were three medical cases among the returnees with one of them seriously injured owing to surgery while others had fractured legs.
While some of the returnees willingly went to Libya in search of greener pastures, others attempted to cross over to Europe from there. Yet, some others were deceived with offers of lucrative jobs by some agents only to get to the country to realise it were all a scam.
Reports say more than 10,000 Nigerians are still stranded in the North African country, going through hellish situations and praying fervently to be saved from the near death conditions. Most of them had wandered and strolled through the desert for weeks in a desperate attempt to cross to Europe. In the process, many of them died, according to the returnees.
Beauty Johnson, 22, who had a three-month-old baby said she was caught in the Libyan desert while trying to go to Italy to meet her sister. According to her, since she was caught in July last year, she has had unpalatable prisons experiences.
She said: "They used to beat us in the detention camp and some of the girls were molested. I got to Libya through the desert in May 2016. I was actually passing by when they caught us. I was going to Italy when they caught me at sea in July and was in custody for three months.
"They treated us very bad. Libyans are very bad. They don't like black people."
Another returnee, a heavily pregnant Bridget Ogie, 19, said she didn't know she had conceived before leaving Nigeria on the advice of a particular agent who promised her a lucrative job in Libya.
"They caught me where I was sitting. I was in Prison 4 and I thank God for my life. I won't advise anybody to go there o because it is not good. [sic] They were beating people like animals. I feel good and happy coming back home."
Victor Uyo admonished Nigerians to be weary of agents in Nigeria promising them lucrative jobs in Libya.
He said: "I am happy to be back in my country. The situation over there is difficult. All those people who call themselves agents have been suffering people. I was in Libya for nine months from May 2016.
"I worked as a cleaner. They treated us badly; you had no time to rest. You make small money; they would collect it from you. There is nowhere to save our money. I left my almost 50,000 over there.
"In the place they kept us for over a month, the food they gave five of us is not enough to take care of one person. We just managed for over a month.
"We thank God that along the line they called the Nigerian embassy. We were so happy to see the Embassy officials. They took our names and told us not to worry. People should be careful with these Libyan agents.
"They approach you with stories about jobs there but you when you arrive, it's another story. They would first of all keep you somewhere called Kanke. In the morning, they would hang you, beat you with whips and afterwards insist you must 'control' money from Nigeria to them.
"The suffering was too much. A lot of Nigerians are suffering there, many have not seen sunlight for over six months. It's not like a police station, it is like a one-man arrest, they would just keep like five of you in a room. Every morning, he would beat you, give small food in the afternoon and beat you again. In the evening, he'll beat you until you can 'control' money from Nigeria. That's what they do everywhere.
"I thank the authorities for bringing me back alive. Many people died recently in Tripoli but I thank God that I am alive. I was staying in another town. I wanted to make small money and establish small business but along the line they broke into our house and they said they wanted to deport us.
They took us to a place called deporting camp. Over there they were treating us badly. A lot of people are still there. We hope the Embassy can get to them so that they can come back alive. They would give us very small food for over a month. I was huge before. Look at my body now, I'm so slim. Everything you see me with was given by IOM. All my luggage and money are there."
Head of Sub-Office of IOM in Lagos, Nahashon Thuo said the returnees decided to leave Libya because they felt the conditions there are not the best. According to him, the organization in conjunction with NEMA offered them assistance to return home while £50 (about N30,000) was given to each of them.
"For the most vulnerable, we support them to get back on their feet. We hope that other organizations, government agencies would chip in and assist them."
Director-General of NEMA, Alhaji Mohammad Sani Sidi represented by Dr. Bandele Onimode said, "The video got to us about hostilities in Libya and we got in touch with our partners. We particularly sent to IOM to help us clarify what the issues are.
"What you are witnessing today is the efforts of IOM who went ahead and got in touch with the people over there. The returnees you see today are Nigerians who have shown interest to return voluntarily back to the country through the efforts of IOM.
Authorities are however encouraging Nigerians who have the predilection to seek greener pastures to remain home.
SSA on Foreign Affairs and Diaspora, Hon. Abike Dabiri-Erewa represented by her aide, Alhaji Abdulrahman Balogun said: "We have so many cases all over and the Federal Government has been telling them that it is no longer green out there. You should come back home and let us salvage it together. They are irregular migrants, some of them don't have proper documentation, some go there to indulge in illicit activities and we are saying that if you are going outside the country, you go there as a good ambassador of Nigeria."
SOURCE: DailyTrust
---
---
© 2023 Naija News, a division of Polance Media Inc.