Jammeh to leave to Conakry with Conde, Barrow wants nationals back home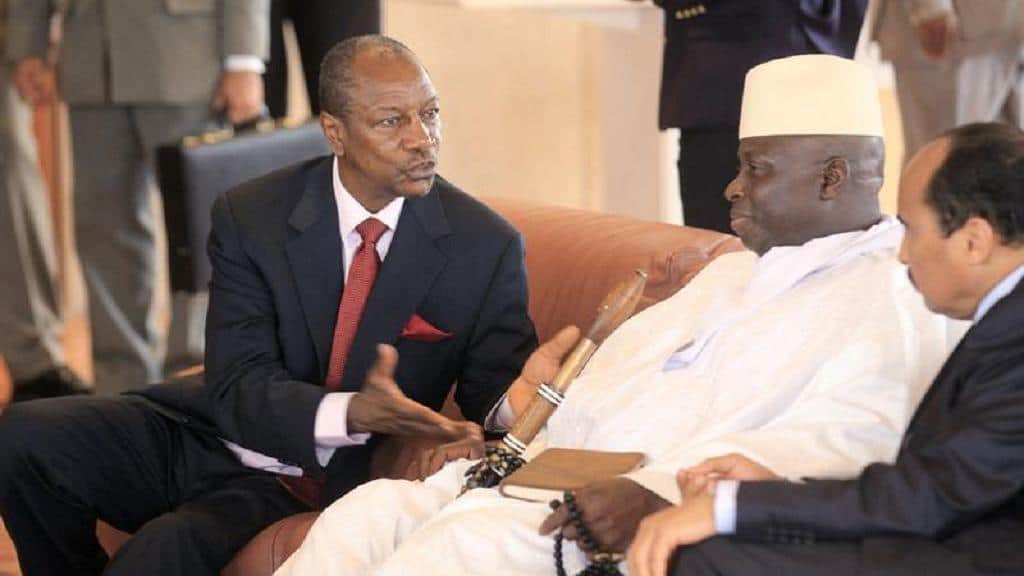 The Gambia still waits on the final exit of long time ruler Yahya Jammeh who agreed to step down on Friday night after agreeing a deal to leave the country.
The deal with Jammeh was brokered by Mauritanian President Mohamed Ould Abdel Aziz and his Guinean counterpart, Alpha Conde.
Whiles the full terms of the deal are yet to be made known, Jammeh is largely expected to fly out to Conakry, the Guinean capital with Conde, who he describes as his 'friend' in the hard times.
Mauritanian aircraft lands in Banjul at 2pm to take Yahyah Jammeh & Guinea president Alpha Conde to Conakry later in the day.

— Umaru Fofana (@UmaruFofana) January 21, 2017
President Barrow wants nationals to return to help build 'The New Gambia'
A leading member of the Gambian coalition that defeated Jammeh in the December 1 polls last year, Mai Ahmad Fatty has disclosed that President Barrow wants all Gambians who fled during past and recent political uncertainty to return home.
Barrow met with Gambians resident in Senegal, where he was sworn in on Thursday. The meeting according to Fatty the new government was doing all it takes to resolve the refugee exodus particularly on its border with Senegal.
"It was useful opportunity to have met and interacted with so many of our citizens resident in Senegal. Many are victims of oppression who escaped to seek refuge, living under sustained challenges in exile for so many years. They sacrificed and risked their lives for The Gambia.
"It was inspiring to hear from Gambian Refugee Association in Senegal and their experiences living in exile. They can now return home to rebuild their lives. Having been a refugee myself, I could empathise what they went through.
"Yet the right of citizens to criticise their government or its officials is guaranteed by law and cannot be interfered with," his post read in part.

Pride, patriotism, peace, African solutions – Quotes from Jammeh's final address
"As a Muslim and a patriot I believe it is not necessary that a single drop of blood be shed. Since the beginning of this political impasse, that our dear nation is going through, I promise before Allah Subhana Wa Tala (God, The Sacred and the Mighty) and the entire nation that all the issues we currently face may be resolved peacefully.
I am thankful to Allah Subhana Wa Tala (God, The Sacred and the Mighty) that up to now not even a single casualty has been registered.
I believe in the importance of dialogue and in the capacity of Africans to resolve among themselves all the challenges on the way towards democracy, economic and social development.
It is as a result of this that I have decided today, in good conscience, to relinquish the mantle of leadership of this great nation with infinite gratitude to all Gambians, women, children, youth and men, and friends of the Gambia who have supported me for 22 years in the building of a modern Gambia."
#Gambia's Yahya Jammeh Announces He's Stepping Down On National TV pic.twitter.com/b58hhnqmN2

— Adeola Fayehun (@AdeolaFayehun) January 21, 2017