Couple Give Birth To 5 Babies After 10 Years Of Barreness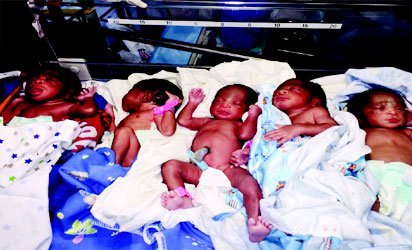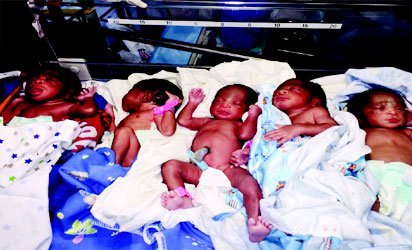 The maternity ward at University of Calabar Teaching Hospital (UCTH) in Cross River State yesterday was enveloped with joy when a woman was delivered of quintuplets after 10 years of waiting.
The parents of the babies – Dr Ekpo Edet and Mrs Esther Edet – who work at UCTH, described having five children at once after 10 years as a wonderful blessing from God.
They are three girls and two boys, whose birth is seen by the father as "a miracle".
He recalled that he had been married for 10 years without a child, before the five children came.
Dr. Eket said the children only come from God and he was thankful to Him for the precious gifts.
He added: "I want to thank God Almighty. He's a faithful God. The first time in the history of Cross River State, the first time in the history of UCTH; five at a go!
"God has been just been faithful as we have concluded the first phase and the doctors have confirmed that the babies are kicking.
"We are entering into the second phase and I know it's not going to be easy but I solicit for support from all well-meaning Nigerians, all my friends and well-wishers.
"I want to thank God almighty for this precious gift of five children. He is a faithful God; the children are kicking and in good condition.
"God has been faithful to my family; five children at a go is indeed a wonderful blessing to me and my wife."
Prof. Thomas Agan, the Chief Medical Director of UCTH, told NAN that it was a moment of joy for the couple because they had hoped on the Lord for the fruit of the womb.
"I am very excited to see one of my staff in a happy mood. The Lord has done it for them. Five children at a go is a very big blessing to the couple.
"This is the first time in the history of the state that a woman is delivering five children at a go and all the babies are perfectly in good condition.
"I am happy that the UCTH has also set a record of delivering five children safely from one mother.
"The quintuplets are weighing between 1.45kg and 1.75kg. There are currently in the Special Care Babies Unit of the hospital," he said.
Wife of Governor Ben Ayade, Linda, visited the couple, saying that the quintuplets were a blessing to the state and Nigeria
Mrs Ayade donated N1million to the couple and another N500,000 to the medical experts who took delivery of the babies.
She also donated an incubator machine to the hospital on behalf of the state government to enhance their activities and service delivery.
---
---
© 2023 Naija News, a division of Polance Media Inc.