Bandits Under Heavy Fire In The North-West – DHQ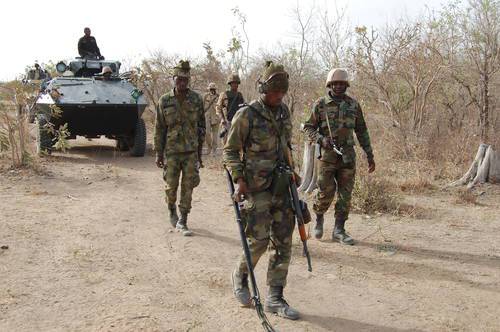 The Defence Headquarter has, on Tuesday stated that the joint security operation in the North-West Region of the country have caused criminal elements to being disorganised in the region and are presently on the run.
Brig.-Gen. John Agim, Acting Director of Defence Information, made this known while fielding questions from newsmen in Gasau on Tuesday.
According to him, several hideout of the bandits were being destroyed by constant air strikes, which had led to the death of some of the criminals and arrest of some as well as rescue of some victims.
Agim stated that the entire state and local government areas in neighbouring Sokoto, Kebbi, Katsina and Kaduna states would also experience the impact of Operation Sharan Daji, which was launched in Zamfara.
He also stated that under the trans-border joint security patrol with the Niger Republic, bandits were followed into the neighbouring country and either neutralized or arrested to help in investigation.
"Although we lost one of our soldiers during encounter with the bandits in Zamfara recently where six others were wounded and receiving treatment, we have neutralized over 20 of the bandits and arrested 21 others."
He added that the operation had effected the recovery of 1,444 cows, 473 sheep, 11 camels, 14 donkeys, 56 rams and 293 goats, which will be returned to their rightful owner through the state government.
Similarly, he said that 24 AK 47 rifles, two pump action guns, 4,798 rounds of 7.6 mm ammunition, local bullet prove jackets, bows and arrows and local charms were also recovered while two kidnapped persons were rescued.
Agim urged members of the public to continue to give credible information to security agencies on suspected persons or movements.
Source: Naija News