NFF Hands Gernot Rohr Pay Rise In New Contract
-NFF hands Coach Rohr new contract with pay increase.
-Rohr has also been commended for instilling discipline and confidence in the team.
-The NFF boss, Pinnick also appreciated the leadership role of Eagles captain, John Mikel Obi.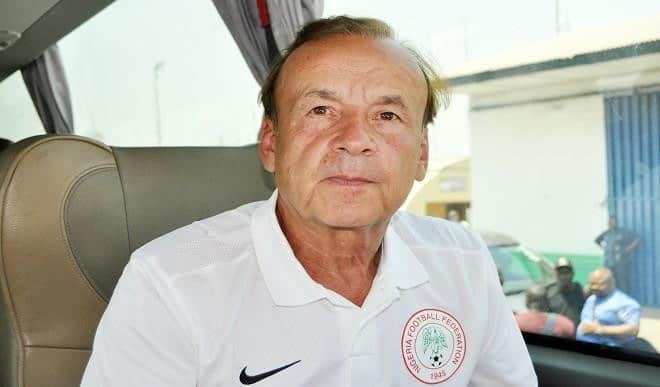 NFF rewards Coach Gernot Rohr with pay increase.
The Nigeria Football Federation has handed Super Eagles coach, Gernot Rohr a new contract offer which comes with a pay rise following his excellent performance in guiding the country undefeated to the World cup tournament in Russia.
The new contract will see the coach remain in charge of the Super Eagles beyond the 2018 World cup.
"We offered him a new contract which he has accepted," NFF president Amaju Pinnick said.
"They are going about the documentation now. His contract expires after the World Cup but we have offered him another two years with a slight pay increase.
"He has radiated being that father figure for the team and has made the players understand that if "I lead well, you guys will follow well". The team spirit is what has been counting for us on the field and off the field."
"He has been able to instill in the boys a sense of patriotism, a sense of discipline, and he's been able to show them that if you are not disciplined then you cannot make an impact."
"Gernot has been exceptional as a coach."
Pinnick also took out time to commend Eagles' captain, John Mikel Obi for his leadership role and efforts within the team.
"Mikel Obi has been super, he has carried the team so well and they believe in him."
"We are very happy with what we have been able to mould together because it is very rare in Nigeria.
"In the past, you've had several leaders in the Super Eagles but now we have just one Super Eagles.
"The team spirit is what has been counting for us on the field and off the field."
What do you think? Drop your comment