Ekiti state  governor, Ayodele Fayose say the looters in the Muhammadu Buhari's government are burying their loots in the villa with presidential protection.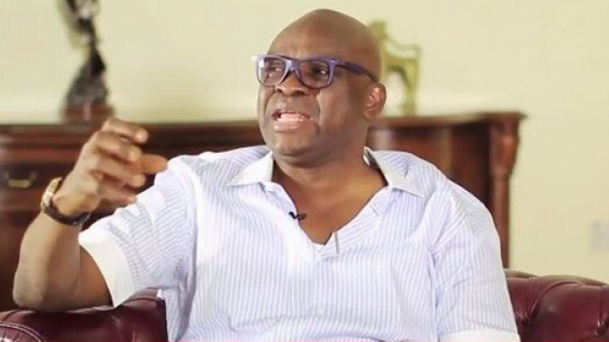 Fayose made the accusation in reaction to the statement credited to the minister of information and culture, Lai Mohammed, that looters have resorted to burying stolen funds in their backyards, deep forests and burial grounds.
The governor in a release on Monday, April 17, by his special assistant on public communications and new media, Lere Olayinka, described the statement credited to the minister as absurd.
Fayose said: "Looters in the Muhammadu Buhari's Presidency, especially those being compensated for funding the election of the President in 2015 bury their own loots in the Villa with presidential protection."

The governor asked: "Should it be wrong for other supposed looters that do not have presidential protection like their All Progressives Congress counterparts to bury their loots in burial grounds probably for spiritual protection?"
"Obviously, this so-called anti-corruption war has become a laughing stock with N49 million found in Kaduna Airport, N448 million discovered in a shop at Victoria Island, Lagos and N13 billion found in Ikoyi, Lagos neither having owners nor the identities of owners of the properties where the money was found known," he said.
The governor suggested that the discovered funds either belonged to members of Buhari's government or it is being planted by the government to sustain what he called its fake anti-corruption fight in the minds of the people.
"Enough of stage-managed and fake anti-corruption war aimed solely at opposition figures, especially presidential hopefuls in the 2019 election," he noted.
According to the governor, there were two different laws now being operated in the country, with one law for the APC and those who decamp to the party and the other for the opposition, especially those perceived as having presidential ambition.
He said: "The narrative they push daily is that only those in their government are saint while other Nigerians, including those in the National Assembly, Judiciary, opposition politicians and the civil servants are rogues while only Buhari's appointees are saints.
"To worsen matters, the cluelessness of the APC government in the last two years has plunged the country into debt without anything to show."
Fayose said the cabals in the presidency are also taking advantage of the president's state of health to oppress Nigerians.
"Nigerians must therefore keep their eyes on the ball and not be carried away by the orchestrated distractions aimed at preventing them from seeing how the APC led government has failed woefully."
The governor called on the international community to hold Nigeria accountable on the recovered N13 billion cash found in a Ikoyi to prevent the government from covering up the issue.
---
---
---