President Buhari Re-Commits To The Nigeria Project
-President Buhari promises to invest in youth development across the country.
-He also stated that he remained committed to restoring the lost glory of Nigeria as a nation.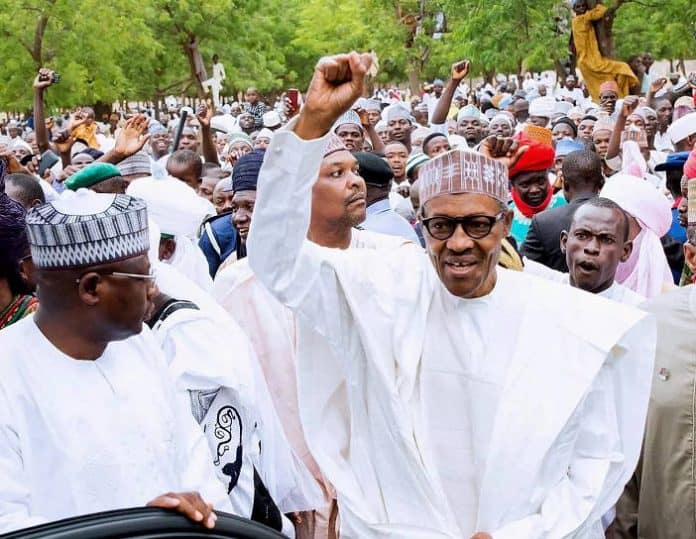 Buhari appreciates the people of Kano for their support.
President Muhammadu Buhari has promised to do all within his power to continue to deliver dividends of democracy to the good people of Nigeria.
According to him, he remains committed to the unity of Nigeria and the determination to reposition the country for greater glory.
He promised to accord priority to the education and empowerment of youths in the country as they represent investments in Nigeria's future.
The president made his stance known in Kano on Wednesday when the state government hosted him in a dinner to welcome him on his two-day working visit to the state.
"Nigeria is my problem, will continue to do my best. Nigeria is my target and I will remain focused to move the country forward," Buhari said.
"If you educate people, you empower them. So we have to make sacrifice to prepare the youth for the future," Buhari said.
"I am overwhelmed by the massive turnout of people who left what they were doing to welcome me. This should be a clear message to the opposition.
"The support has been consistent, so I don't have words to express my appreciation to the people of Kano state."
President Buhari also praised Governor Abdullahi Ganduje for his efforts so far at implementing projects that have direct bearing on the standard of living of the people.
In his response, Governor Ganduje expressed optimism that Buhari would still visit the state in the nearest future and commission several other developmental projects embarked upon by his administration.
"We have a number of projects that are on-going and we hope you will visit the state in near future in order to commission such projects," Ganduje said.
What do you think? Drop your comment