'I Never Knew About NSTIF Until I Became Minister' – Lalong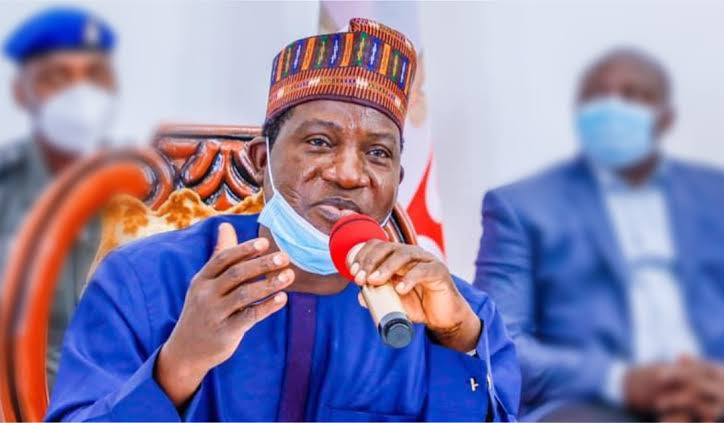 The Minister of Labour and Employment, Simon Lalong, has said he was unaware of the existence of an agency like the Nigeria Social Insurance Trust Fund (NSITF) until he was appointed a minister.
Naija News reports that Lalong made this known at the NSITF headquarters in Abuja on Tuesday, confirming that within the short period he has spent in office as minister, he has received a lot of petitions.
This comes after the Independent Corrupt Practices and other Related Offences Commission (ICPC) invited some top officials of the NSITF for questioning over a gratuity payment of N47m to the Managing Director of the Fund, Maureen Allagoa.
In a letter dated 14th September 2023, with reference number ICPC/SSD/TB/197/2023 and directed to the Managing Director of the Fund, those invited include the Head of the Administration Department, Head of Finance and Investment Department as well as the Head of Audit and Inspectorate Department.
Speaking on the development, Lalong said there is no agency without problems, and he was aware of different issues that arose from the Fund, particularly the case of how the MD paid herself, how the ministry queried her and how she refunded the money when it became public knowledge.
The former governor noted that a committee has been set up to investigate a wide range of issues that have caused a lingering crisis within NSITF and find a lasting solution.
He added that all the agencies are essential, however, there is a need to focus on NSITF to enable the ministry to succeed.
He said, "Yes, we saw achievements. We also saw a lot of complaints. A lot of complaints came from this agency. And that was why we all came up to look at it first hand and to see how to address some of these issues. There is no agency that has no problem.
"There's no ministry that has no problem, but if you have problems, you look at ways of addressing some of these problems, so that you can move forward. You may want to step beyond your bounds because you want to achieve beyond that bounds. That is my prayer for NSITF today.
"We are here to look at them, it is not to say we are here to open up opportunity to collect grievances again. I want to assure you that those that came to me both formally and informally, I am aware. Just like I told you the other time, there is no petition that comes to me that I don't look at it. I look at it and I will address it. Right now, I've addressed all of them.
"As a way forward, I quickly set up a committee and that committee I'm going to inaugurate tomorrow to handle all these, summarize them and bring up to me.
"For me, like I said, that time, I never knew about NSITF until I became a Minister of Labour and Employment. Out of all the agencies, I'm not saying others are not important, but there is one that we must focus on, if we want to succeed in that ministry. That was why we give this priority to take this visit to your agency. I thank you very much for the welcome."
---
---
© 2023 Naija News, a division of Polance Media Inc.