Senate Amends Standing Rules, Limits Contest For Senate Presidency, Others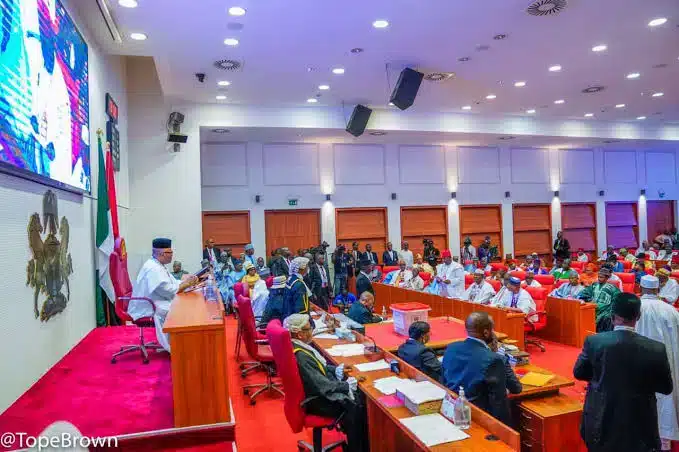 The Nigerian Senate has amended its standing rules in the contest of the office of the President of the Senate or Deputy Senate President.
Naija News reports that the Red Chamber amended and passed the standing rules during plenary on Tuesday, October 3, 2023.
The new standing rules provide that to be eligible to contest the office of the President of the Senate or deputy, a senator must have served a term in the Nigerian Senate.
At the plenary on Tuesday, the upper legislative chamber adjusted its standing rules after Opeyemi Bamidele, majority leader, sponsored a motion.
The motion, seconded by Simon Mwadkwon, deputy senate majority leader, received the support of all the senators when Senate President Godswill Akpabio put it to a voice vote.
Recall that Akpabio, the former Minister of Niger Delta Affairs, was elected as the Senate President of the 10th Assembly in June 2023.
Akpabio, who was the preferred candidate of the ruling All Progressives Congress (APC), secured 63 votes to defeat a former Governor of Zamfara State, Abdulaziz Yari, who had 46 votes.
Yari, though a former member of the house of representatives, sought the number three position as a first-timer.
The senate also amended its rules to create nine additional standing committees.
The upper legislative chamber created the committee on atomic and nuclear energy which would oversee the Nigeria Nuclear Energy Regulatory Commission and Nigeria Atomic Energy Commission.
The Senate also split the Committee on Federal Capital Territory (FCT) into two, panels on FCT and FCT Area Councils.
The Sports Committee was also broken into sports development and youth and community engagements.
According to the motion, "The committee on Solid mineral development shall oversee Federal Ministry of Solid Mineral Development, Nigerian Geological Survey Agency, Mining Cadastre Office and Council of Nigerian Mining Engineers and Geoscientist, Nigerian Metallurgical Training Institute, Solid Minerals Development Fund, Nigeria Institute of Mining and Geoscience, National Metallurgical Development Centre, exploration of minerals extraction and quarry, geological survey and minerals investigation as well as explosives.
"The committee on Mines and Steel Development shall oversee the Federal Ministry of Mines and Steel Development, Aluminum Smelting Company of Nigeria, Ajaokuta Steel Development Company, National Iron Ore Mining Company, National Steel Raw Material Exploration Agency and their budgets."
---
---
© 2023 Naija News, a division of Polance Media Inc.