Borno: Boko Haram Members Ambush Motorists, Kill Soldier, Three Civilians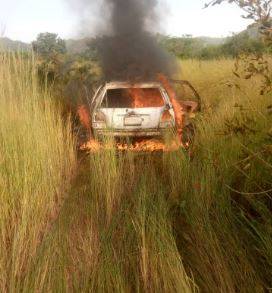 Motorists and passengers including soldiers and the Civilian Joint Task Force (CJTF) at the weekend were ambushed by Boko Haram terrorists in Borno State.
A source who spoke with Vanguard on Sunday revealed that the incident happened during an escort along the Gwoza-Limankara-Uvaha road, leaving one soldier and three passengers dead.
The terrorists also set ablaze five commercial vehicles including a security patrol vehicle, even as scores of motorists and passengers were either abducted or missing in action.
The lawmaker representing Borno South, Ali Ndume has called for collaboration between the military and youths in Gwoza to end renewed killings in the community.
Sources that spoke with the platform on the incident revealed that the incident happened on Saturday at about 5 p.m.
The source said, "I can inform you that about three civilians and a soldier were killed in a Boko Haram ambush along the Gwoza-Limankara-Uvaha road.
"The deceased soldier (names withheld) for security reasons, was among the security agents escorting motorists and passengers before he was shot dead.
"About five commercial vehicles and a patrol vehicle belonging to CJTF were set ablaze, even as scores are still missing in the bush as of Sunday afternoon.
"Presently, our member, representing Gwoza at the Borno State House of Assembly, Hon Abdullahi Buba Abatcha and other concerned personalities have left Maiduguri to Gwoza to sympathize with families of the victims."
Senator Ndume while confirming the incident said, he was informed about the road ambush and other attacks by Boko Haram terrorists, but could not ascertain the number of casualties.
He said, "Yes seriously, I was informed about the road ambush and other attacks by Boko Haram terrorists, but could not ascertain the number of casualties especially the road ambush by terrorists last Saturday in Gwoza.
"I knew that since the rainy season set in, several people particularly farmers in Gwoza were killed by terrorists.
"Although the military has been doing their best in degrading or eliminating remnants of Boko Haram in the North East, more needs to be done considering the renewed killings in my constituency like Gwoza town.
"I want to also appeal to youths in Gwoza to wake up from their slumber and join the fight against Boko Haram like what Youths in Biu, Hawul, Askira-Uba, Chibok and other local government areas are doing in complementing efforts of security agencies in the fight against terrorism which have brought relative peace in those areas.
"I want to also call on the Local Government authorities in Gwoza to support men of the Civilian JTF, as well as the military to intensify efforts and address the renewed killings in Gwoza and its environs.
"It is regrettable to inform you that most of these killings in Gwoza are perpetrated by Youths in Gwoza who have joined Boko Haram and refused to surrender as witnessed in recent times. Therefore, I reiterate that Youths in Gwoza should please stop demonstrations or rioting whenever there is an attack, rather, they should join the forefront in the fight against Boko Haram like what is obtainable in many communities.
"My appeal to the military is to deploy more troops in Gwoza so that they can finish the work they have started so that these intermittent attacks on our farmers will stop. People are seriously living in fear, they are scared of going about their economic activities, our farmers are no longer going to their farms to harvest their crops due to fear of the unknown, and is very worrisome."
---
---
© 2023 Naija News, a division of Polance Media Inc.