Edo Govt Speaks On Allocating Deputy Governor's Office To Alaghodaro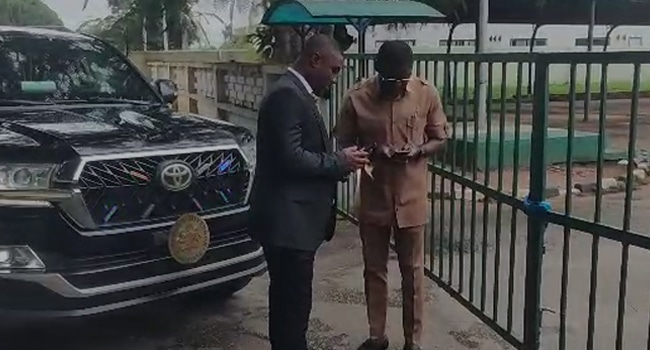 The Edo State Commissioner for Communication and Orientation, Chris Nehikhare has debunked rumours that Alaghodaro Summit has been allocated an office within Government House in Benin City
In a statement to Naija News on Thursday, the commissioner described the claim as unfounded.
In a statement, Nehikhare said it was impossible to have an Alaghodaro Summit office in Government House because the organisation is not a parastatal of government but a company limited by guarantee, working to attract private investment into the state.
According to him, "The rumour making the rounds that an office in Government House has been designated for Alaghodaro Summit is false and unfounded. It is being peddled by mischief makers who are bent on causing tension in the state.
"These mischief makers are obviously being sponsored by some undesirable elements to cause crisis in the State. I repeat that there is no such thing as an office for Alaghodaro Summit in Government House.
"Alaghodaro Summit is not an agency or parastatal of the government and therefore has no need for an office in Government House. It is an organisation limited by guarantee working to attract private investment in the state.
"I advise the general public and the press to disregard the rumour in its entirety."
Reports had emerged claiming Governor Godwin Obaseki had allocated the former office of his Deputy, Comrade Philip Shaibu, in Government House, Benin, to Alaghodaro as secretariat.
In a leaked memo dated September 18, 2023, Obaseki directed the Secretary to the State Government (SSG), Osarodion Ogie, to "immediately" allocate Shaibu's office building to the trustees of Alaghodaro summit as their Secretariat.
Alaghodaro, as gathered by this platform, is an initiative of the governor to drive investment in the state.
It was gathered the chairman of Alaghodaro, through its secretary, had written to Obaseki for a permanent secretariat building to aid planning and logistics for the 2023 summit held in the second week of November.
In the leaked memo, the governor also directed that the office space closest to the venue of the summit, the New Festival Hall of Government House, which hitherto was occupied by Shaibu, should also be allocated to the board of trustees of the Alaghodaro summit, as well.
---
---
© 2023 Naija News, a division of Polance Media Inc.