We Were Not Bribed To Rig Election – INEC Officials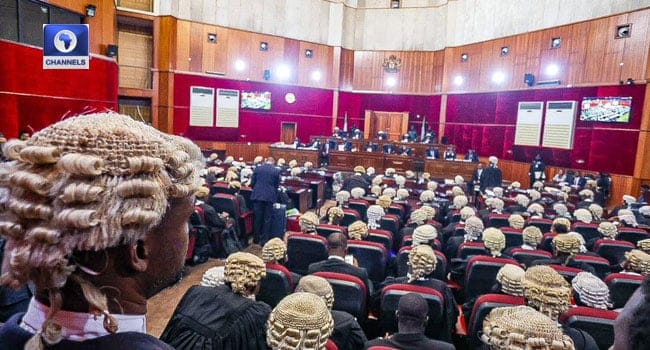 Two ad-hoc staff of the Independent National Electoral Commission (INEC) testified on Saturday that they had no part in purportedly tampering with the results of the 2023 presidential election.
Alheri Ayuba and Sadiya Haruna, the INEC ad-hoc staff members, appeared before the Presidential Election Petition Court in Abuja.
They testified in a case filed by the candidate of the Peoples Democratic Party (PDP), Alhaji Atiku Abubakar, challenging the election's outcome.
After being subpoenaed as witnesses, both Ayuba and Haruna affirmed their previously written statements made under oath.
Ayuba, known in court as the 17th petitioners' witness, and Haruna, the 18th witness, provided their testimonies under the guidance of the petitioners' lead counsel, Chief Chris Uche.
Both witnesses detailed technical difficulties during the voting process. Ayuba, who served as a Presiding Officer in Garki, Abuja, described failed attempts to upload the election results to INEC's IRev portal using the Bimodal Voter Accreditation System (BVAS) device.
Despite her training, she was unable to transmit the results electronically.
Haruna, who served as a Presiding Officer at City Centre in Abuja, experienced similar issues.
She stated that a malfunction with the BVAS device at her polling unit prevented her from transmitting the results. In both cases, the witnesses took their manually recorded results to the Ward Collation Officer.
When asked about the potential for bribes to influence the election, both witnesses denied any such occurrences.
They each maintained that they were not induced or influenced by any politician.
The respondents; INEC, President Bola Tinubu, Vice President Kashim Shettima, and the All Progressives Congress (APC) have objected to the admissibility of the witness statements.
They have yet to provide their reasons for these objections, promising to elaborate in their final written address.
The presidential tribunal, led by Justice Haruna Tsammani, is set to resume next Tuesday.
Atiku, who came second in the presidential poll, is seeking to be declared the rightful winner of the election and requests the withdrawal of the Certificate of Return given to President Tinubu by INEC.