Shettima, Remi Tinubu, Others In Attendance As Senate Holds Valedictory Session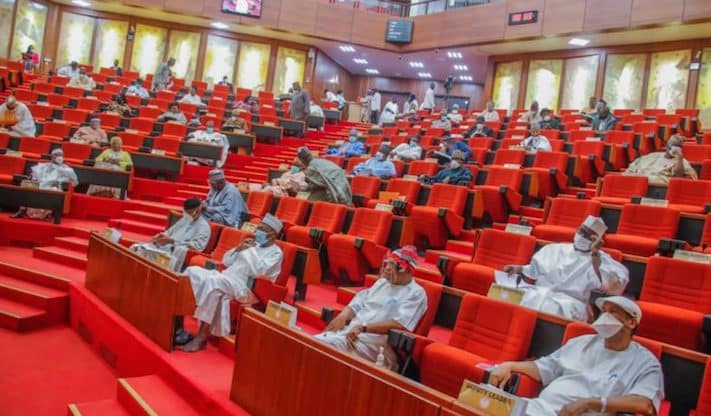 The Ninth Senate, on Saturday, held its last sitting and its valedictory session in the upper legislative chamber of the National Assembly.
Naija News reports that the ninth Senate is scheduled to wind up activities on Sunday, June 11, 2023, having been inaugurated on June 12, 2019.
The valedictory session was earlier fixed for Thursday but was postponed till Saturday because of a meeting President Bola Tinubu had with the National Assembly members-elect.
Present at the ceremony, which started at about 11 a.m., included Vice President Kashim Shettima and the wife of the President, Oluremi Tinubu, who are both members of the Ninth Senate.
Others at the event included the Kano State Governor, Uba Sani, and the Deputy Governor of Akwa Ibom State, Dr Akon Eyakenyi, amongst others.
Some of the activities lined up included the presentation of  "Certificates of Legislative Service" to the Senators by the Clerk of the Senate, Chinedu Akubueze.
Shettima, Tinubu's wife, Senate President Ahmad Lawan, and the Deputy Senate President, Ovie Omo-Agege, were the first set of Senators to receive their certificates.
The 10th Assembly will be inaugurated on Tuesday, June 13, when the presiding officers will be elected, and only about 34 lawmakers from the Ninth Senate would be returning to the chamber.
Senators Set For Emergency Meeting Over 10th NASS Senate Presidency Tussle
Some lawmakers have called for another emergency meeting over the tussle for the 10th Senate Presidency.
Recall that President Bola Tinubu met with some lawmakers on Wednesday and Thursday, respectively, ahead of the inauguration of the 10th National Assembly scheduled for Tuesday, June 13, 2023.
At the initial meeting, Tinubu openly endorsed Senator Godswill Akpabio for the 10th Senate Presidency, a development that had been argued by some chieftains of the All Progressives Congress (APC) who are supportive of another candidate.
Reports obtained on Friday morning, however, revealed that three Senators-elect, Abdulaziz Yari, Jimoh Ibrahim, and Elisha Abbo, have called for a counter meeting slated for June 9 at 9 pm at the Fraiser Suites, Abuja.
The notice of the meeting was reportedly signed by Abbo, a lawmaker who became infamous four years ago as 'the Sex Toy Senator' when the news of him slapping a young girl at a sex toy shop in Abuja went viral.
It was gathered that Abbo and Jimoh Ibrahim are leading the battle for the emergence of the former Governor of Zamfara State, Abdulaziz Yari, as the new Senate President against President Tinubu and APC leadership's choice of candidate.