Orji Kalu Under Fire For Shedding Tears At Senate Valedictory Session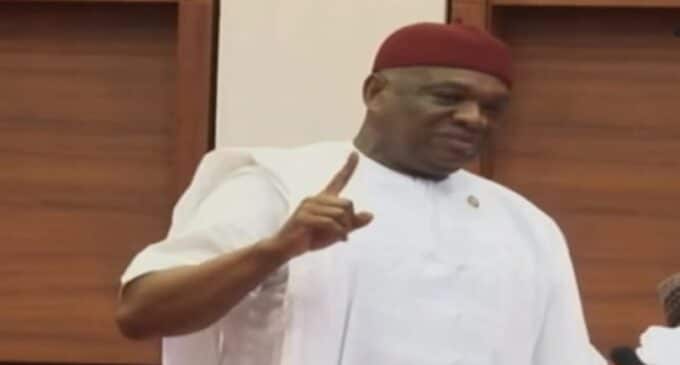 The Chief Whip of the Senate and one of the aspirants for the Senate Presidency in the 10th National Assembly, Orji Uzor Kalu, has narrated his prison experience at the valedictory session of the ninth Senate.
Speaking at the valedictory session on Saturday while shedding tears, Kalu said he was not a thief as being said on social media, adding that he could buy anything money can buy.
While shedding tears, Kalu said he was wealthy before he ventured into politics, and played a critical role financially in the formation of the Peoples Democratic Party (PDP).
The senator said while he was in prison, his businesses were taken over and there were plans to assassinate him but he survived and came into the Senate.
Kalu said: "Before I came into politics, I could buy anything money can buy. I'm not a thief.
"Those that put me in prison know the reason. They took over my businesses and wanted to kill me yet I survived it and I'm in the senate with you.
"I have never lacked. While I was in the Peoples Democratic Party (PDP) where I served for two terms as governor, I brought the money that they used in forming that party, every penny, in 1997 and 1998, and I later became a thief.
"People I gave transport money from my house in VI became agents. This is what Nigeria represents. I want to thank you, my colleagues, for giving me these four years of uninterrupted support because this country is not fair."
However, Nigerians took to the micro-blogging platform, Twitter to attack the lawmaker for claiming to have businesses across the country.
See some of the reactions:
@tweetJudon wrote: "Sir you need to build more bridges, this cry is coming from the pain of APC denying SE the opportunity to present the next SP. You just have to keep building bridges until you Igbo leaders realise that united we stand and divided we fall."
@DekorMene wrote: "What about Abia state funds? Why was Abia state underdeveloped under you? Orji." 😂😂😂
@silesanmi64_b wrote: "I build this and that, Nigeria can not be fair to hypocrites."
@graceoma1911 wrote: "Onye ori Orji Uzo Kalu. Please take several seats down."
@vakorah wrote: "We the good people of Igbo land can confirm that Orji Uzor Kalu is a criminal. We the Igbos don't need Senate President."
@uBeRToKS wrote: "Build more bridges, nna. And don't forget flyovers, too. So that when it gets to our turn in 2050, you'll be the forerunner. Ebezila akwa nnu. But maka chi, iwu onye oshi. You started the rot in abia state. For someone who has investments in aba, you ran it into the ground."
@Ikepicano wrote: "This is just the beginning…all of you sell out will shed blood as tears …you neglected the Igbos, you treat your own people like they are nothing…when you eat with the devil you must make sure to have a long spoon."
@yokkibot wrote: "cut! cut!!!  brilliant performance. those tears were even real!!! amazing!! Also, don't worry about leaving it to God. The judiciary will take it from here! God is busy solving global warming. Nigeria has everything it needs to heal itself. 💕💕"
@_justinkaycee wrote: "Orji Uzo Kalu u don't need to weep, just keep building bridges &by the time you've built a very long bridge, maybe the country will be fair to u &ur likes."
@IfeLove42552937 wrote: "Is it a must to serve if they don't want you to serve them? Or no be service again??? I don't like this by fire by force politics jare. If you don't lack anything, then leave them alone. It's beginning to sound as if you are playing the victim, sir."
@coke_C17H21NO4 wrote: "I hope y'all see how we are calling him out and laughing at his premium tears. Oya use that energy on your senators or leaders.
@official_oj23 wrote: "Wait ooo! Who are those that can't explain their source of income? Are referring to Tinubu or who else? This question is very important to my brother. Anyway, stop crying and build more bridges, head overs, and crossroads."