Ondo Assembly Begs Residents To Intensify Prayer For Akeredolu's Health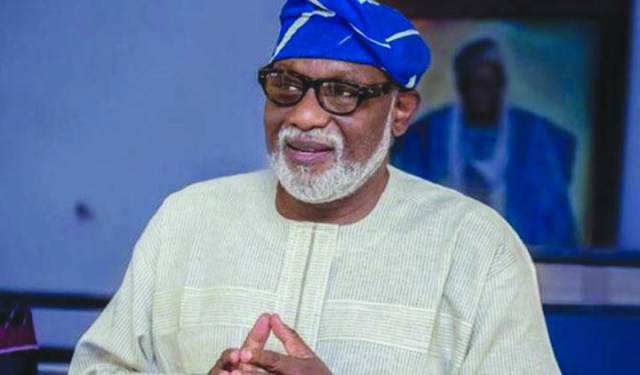 The Speaker of the Ondo State House of Assembly, Olamide Oladiji, has pleaded with residents of the state to intensify prayers for the quick recovery of Governor Rotimi Akeredolu.
Naija News reports that Oladiji made the plea on Saturday during a special prayer organised for Rotimi at Saint Andrew Cathedral Church, Owo, headquarters of the Owo Local Government Area of the state.
Recall that there have been speculations over the state of the health of the governor, with the situation creating tension in the state.
Oladiji, however, urged the people not to despair stressing that rumours being peddled around about Akeredelu's health should be stopped.
Oladiji, popularly known as Landmark, and his deputy, Akinruntan Abayomi, majority leader, Ogunmolasuyi Oluwole, and deputy Majority Leader, Tosin Ogunlowo were present at the prayer session.
Others at the event were Raymond O. Daudu (Deputy Minority Leader) and Victor Japheth (Deputy Chief Whip), among others.
Handover To Your Deputy To Avert Constitutional Crisis
Meanwhile, Rotimi Akeredolu has been told to hand over to his deputy to avert any eventualities of a constitutional crisis.
Naija News gathered that this was the position of the Ondo State chapter of the Social Democratic Party (SDP).
The SDP's submission follows speculations in recent times about the ill health of Governor Akeredolu.
According to the State Chairman of the party, Stephen Adewale, it is better for Akeredolu to hand over to his deputy "to safeguard his hard-earned reputation by handing over to his deputy in an acting capacity until he is capable of handling the state's business."
Adewale in a statement issued in Akure, the state's capital, asserted that the silence from the camp of the governor's party, the All Progressives Congress (APC), about reports of his health status is alarming.