NSCDC Begs Hunters To Help Fight Insecurity In Anambra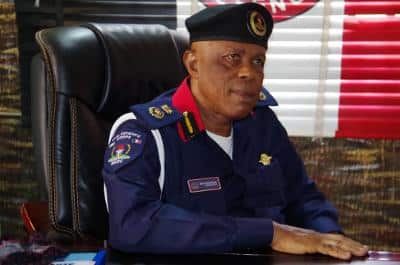 The Nigerian Security and Civil Defence Corps (NSCDC), Anambra State chapter, has appealed to the Nigerian Hunters and Forest Security Services (NHFSS) for collaboration in the fight against criminal elements in the state.
In a statement issued through the NSCDC Public Relations Officer, Okadigbo Edwin, on Friday, the State Commandant of the NSCDC in Anambra State, Edwin Osuala, urged the NHFSS not to hoard any credible information that could help in getting rid of criminals and other miscreants.
Naija News understands that Osuala made the call when members of the NHFSS paid a familiarisation visit in his office on Thursday.
The security agency's boss described the hunters as very important elements in society, saying that the Corps would use their expertise to strengthen the operational framework in the state.
He said: "As a critical stakeholder, your collaboration is vital towards providing a security friendly environment for all Anambra residents to operate. I call on you to come forward with relevant information that will aid security agencies in the state to succeed in ridding the state of all forms of criminality.
"NSCDC remains committed to the maintenance of peace and security. We appealed to NHFSS to partner with the Corps and other relevant stakeholders in achieving better security in the state."
Earlier in his remarks, the Anambra State Commander NHFSS, Titus Ogudogwo, said the association, despite waiting for the signing of the bill establishing it, has been rendering a series of auxiliary services to the country through collaboration with existing relevant security agencies to strengthen the internal security system.
Ogudogwo said signing the bill into law will give the association the legal backing to chase criminals from the forests.
"As hunters, we are present in all the nooks and crannies of our forests and you will agree with me that some of these social enemies — the criminals — have made the forest their place of hibernation.
"We are patiently waiting for our bill to be signed into law to empower us to flush criminal elements out of our ungoverned spaces, which are mainly the forests, bushes, and farmlands," Ogudogwo added.
He applauded the state commandant and the command for their resilience in restoring peace and normalcy in the state.