'Irresponsible And Uncouth' – Edwin Clark Fires El-Rufai Over Religious Bigotry Comment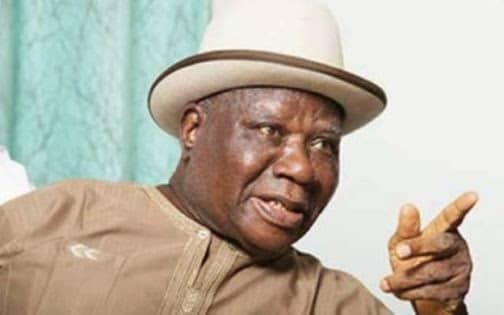 The convener of the Pan-Niger Delta Forum (PANDEF), Edwin Clark, has slammed the immediate past governor of Kaduna, Nasir El-Rufai, over his recent controversial religious comment.
Naija News reported that El-Rufai in a viral video, said he and some northern governors used religion as a political tool to give victory to President Bola Tinubu in the 2023 presidential election.
El-Rufai further said the victory of Tinubu silenced the Christian Association of Nigeria, adding that he will sustain an Islamic-dominated government for 20 years and unending not only in Kaduna State but in Nigeria at large.
He added that in the course of the electioneering campaigns when Christians tried to ask questions on why the Muslim/Muslim Ticket, he deceived 'them' that it was not for religious dominance when in reality, the tickets both nationally and at the state level were for Islamic domination.
Speaking with reporters in Abuja on Friday, Clark berated the former governor for allegedly saying that the APC used religion to win the presidential election.
The elder statesman described the comment made by El-Rufai as insensitive, irresponsible, and uncouth, stressing that he was wrong for boasting about Muslims leading the affairs of the country.
He said: "The insensitive, irresponsible, uncouth, and arrogant statement credited to Nasir El-Rufai, on his plan to impose the Islamic religion on the country, lasting for the next 20 years, is still causing bad blood.
"It is unthinkable how someone who describes himself as a leader, could utter such a statement, except to cause confusion, which is very obvious that he benefits from such confusion. Because there is no other way of explaining such crass behaviour and statement."