Nigerian Newspapers Daily Front Pages Review | Thursday 8th June, 2023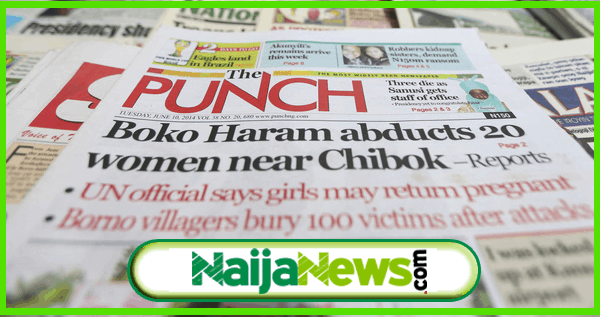 Naija News looks at the top happenings making headlines on the front pages of Nigeria's national newspapers today Thursday 8th June 2023.
The PUNCH: As Nigerians grapple with the aftershocks of the fuel subsidy removal, President Bola Tinubu has directed the National Economic Council to come up with inputs on palliatives and the minimum wage review as part of measures to cushion the pain of subsidy removal. This was as the Trade Union Congress said it was expecting the Federal Government to provide feedback on its demand for N200,000 minimum wage by June 19.
---
The Guardian: Although exact figures and terms of reference remain a secret as transparency and accountability concerns cloud the Direct Sale Direct Purchase (DSDP) arrangement of the Nigerian National Petroleum Company Limited (NNPCL), there are indications that Nigeria may have swapped over 364.5 million barrels of crude oil worth $25.9 billion in the last three years and four months.
---
Vanguard: fewer than 34 outgoing, returning, and sitting governors are leaving a huge burden of unpaid gratuities, while 27 of them are being choked by unpaid multi-billion pension arrears. Similarly, 13 states are burdened with a backlog of salary arrears and other unpaid benefits to their employees. Investigations by Vanguard revealed that four states in the South-East, four in the South-West, and five Northern states owe workers salaries.
---
ThisDay: President Bola Tinubu has sworn in former Minister of Special Duties, Senator George Akume, as the new Secretary to the Government of the Federation (SGF) at the State House, Abuja. The brief ceremony, witnessed by top government dignitaries, including some serving and former governors, saw Senator Akume taking his oath of allegiance and oath of office at about 11:06 am inside the Council Chambers of the State House.
---
The Nation: President Bola Ahmed Tinubu yesterday asked state governors to work with him to unite the country and reshape the economy.  He told them that politics is gone, it is time for real business.
---
Daily Trust: The rise in the price of petrol has reduced the level of patronage at filling stations as Nigerians grapple with the ripple effects of the government's decision on fuel subsidy removal. Checks by our correspondents on Wednesday revealed that due to the N537 new pump price of fuel introduced by the Nigerian National Petroleum Corporation Limited (NNPCL), many filling stations in the territory now record fewer customers.
Thank you for reading, that is all for today, see you again tomorrow for a review of Nigerian newspapers.