Fr Mbaka Breaks Silence On 2023 Election Prophecy, Says It Was So Clear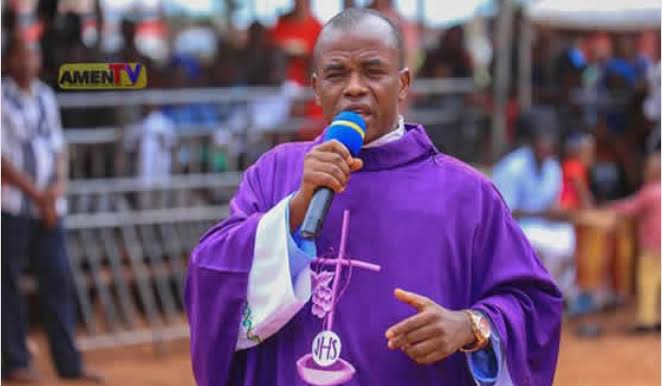 Months after the conclusion of the 2023 presidential election won by President Bola Tinubu, the spiritual director of the Adoration Ministry in Enugu, Nigeria (AMEN), Rev. Fr Ejike Mbaka, said his prophecy and vision shown him by God was so clear.
Naija News reports that Fr Mbaka said this in reaction to those criticising him on social media after the outcome of the 2023 general election.
Delivering a sermon at his Church branch, the renowned Christian cleric warned those attacking him, especially on social media, insisting that he would keep talking.
According to Mbaka, social media cannot control the voice of prophecy. The cleric asserted that God reveals the future through vision, and people will see it.
"Please, if the gift you have is not genuine, ask God for the real one; stop fabricating things. When there is a lot of noise on social media, then somebody begins to speak because you think that if millions of people are speaking of somebody, that means the majority will win the vote. () No, it is a different thing from prophecy and vision.
"In a vision, God will reveal to you the future. You will see it. It was so clear. Even in the time of Jonathan, I told him, look at what the Holy Spirit says you should do, 'remove this person if you want to win the election. If you don't remove him, you will lose, and Buhari will take over," Fr Mbaka said.
"People will never understand Father Mbaka, and they will begin to talk rubbish on social media. Whether you understand me or not, I will keep talking.
"Social media cannot control the voice of prophecy because, in the end, it will happen the way God said it must happen," he said.