Fani-Kayode Under Fire For Defending El-Rufai On Muslim Dominance Comment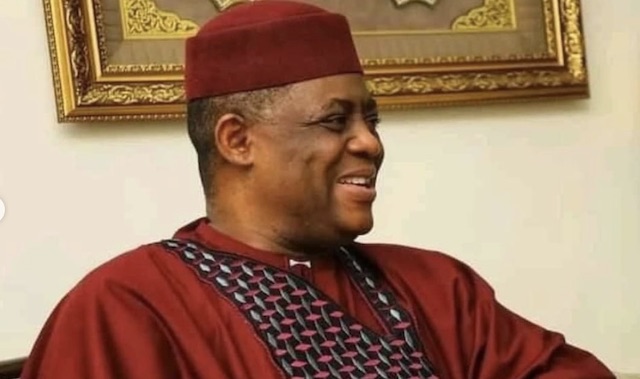 Former Aviation Minister, Femi Fani-Kayode, is under fire over his defense of the immediate past Governor of Kaduna State, Nasir El-Rufai on a controversial comment.
Naija News reported that Fani-Kayode had defended El-Rufai over a viral video of him on the internet where he spoke on Muslim-Muslim tickets in Kaduna State and Nigeria at large.
In the video, the former governor, who spoke in the Hausa language, noted that their plan for the last eight years in Kaduna is to maintain a political leadership of a Muslim-Muslim ticket.
While asserting that there was no Christian that could say that he or they were marginalized, El-Rufai said the ruling party's plot is to remain in power with a Muslim-Muslim ticket for the next 20 years.
According to the former governor, by then the Christians would have come to the realization of the reality of Muslim-Muslim leadership in the state and in the country.
In a Twitter thread, however, on Thursday morning, Fani-Kayode said El-Rufai is not a religious bigot, Muslim fundamentalist, terrorist, fascist, or jihadist, as many have called him.
The former minister added that he worked closely with him under two administrations and he was never any of the names he is labeled with at the moment.
Fani-Kayode described El-Rufai as a down-to-earth, practical, pragmatic politician who speaks his mind boldly, who is deeply calculating and courageous, and who knows and understands the game of thrones and the art of acquiring and wielding power very well.
However, many Nigerians took to the micro-blogging platform, Twitter to berate the former minister for defending El-Rufai, whom he had described as a religious bigot in the past.
See some of the reactions below.
@Babsayor wrote: "We do not need your assurance, as your word doesn't hold water. We have sampled your opinions over the years, and we have come to conclude that, for you, anywhere belle face na front. You will defend anyone, so long as your pocket money is secured. Bàbá, shut up and sit down!"
@Enyinna wrote: "It is quite pitiful that anyone who satisfies your hunger suddenly becomes your brother and friend. You are never to be trusted because you do not stand by any principle but wherever you get fed. His message was very clear and we heard it loud and clear. Save your sermons."
@iamProjectP wrote: "As usual you exhibited how your thought, opinion, and actions will always be for who is willing to pay the most. You are busy defending a man who by all intents and purposes continues to show who he really is. Shame on you!!"
@sufyanadedamola wrote: "U no just Dey reason well all the time… Call a spade, a spade, and leave shalaye."
@blackash31 wrote: "My God!! You really are shameless, coz we know if you were still in PDP your epistle would have been completely different!"
@Emysmile1990 wrote: "I pity those that regard anything that has to do with you….the religious war being championed by
@elrufai will soon mature."
@Uptownthehommie wrote: "Well, we just give you 6 months, and a slight fallout from their payroll, and you'll still come back here to give us a proper analysis of El RUFAI's confession about the APC Agenda. You never disappoint."
@SEN_Emba wrote: "You are confusing us too much, who ur mama really born, you've got too much brothers man, Abi your mum been Dey do hookup?"
@Shekponsky wrote: "You are cheap man, very cheap. Cheaper than pure water sachets. In fact pure water isn't cheap anymore. Haba, have a little shame and integrity. You are such a big disgrace."
@Fabmoniks wrote: "What makes you think that we give a hoot about what you think of El-Rufai? We should take your word on a man based on your impressions of him?
"Does it not occur to you that you've lost all shreds of integrity you ever possessed? We can make deductions on our own. Thank you!"