'Cock And Bull Story' – Ngige Speaks On Plan To Proscribe ASUU Under Buhari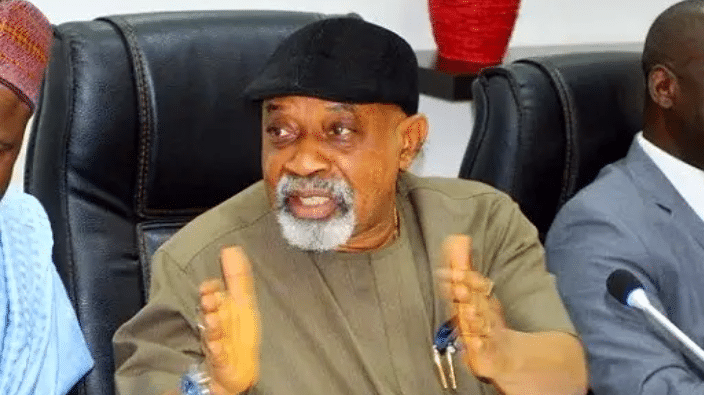 The immediate past Minister of Labour and Employment, Senator Chris Ngige, has denied reports that the Muhammadu Buhari administration had planned to proscribe the Academic Staff Union of Universities (ASUU).
Ngige was reacting to a statement issued by a member of the House of Representatives, Hon. Aminu Goro, alleging a plan to deregister ASUU.
Goro had, in a speech at the valedictory session of the 9th House, claimed that the outgoing Speaker of the House and new Chief of Staff to the President, Femi Gbajabiamila, saved ASUU from proscription under Buhari.
Reacting swiftly through his media office, Ngige described Hon. Goro's narration as a cock and bull story.
While stating that no such thing happened under the Buhari government, the former minister explained that he did not need presidential approval as the Minister of Labour and Employment to withdraw the certificate of registration of an erring trade union.
According to him, Section 7 of the Trade Unions Act 2004 permits the Registrar of Trade Unions to cancel a certificate suo moto, more so when ASUU had breached Section 37 on the annual rendition of Audited Accounts.
He said, "They (ASUU) were in default for five years. Another Section of the Trade Dispute Act, The Essential Services Act Cap T9, permits the President to proscribe any erring Union involved in an illegal strike,
but all through the 2022 ASUU Strike, neither the President nor any of his Ministers, whether in Education or Labour, mooted such an idea because the Honourable Minister of Labour and Employment (HML&E) had done the right thing by the transmission of an Instrument on the issue to the National Industrial Court of Nigeria (NICN), for adjudication in accordance with Section 17 of TDA, 2004.
"So, the former President Buhari and his officials chose the path of the Rule of Law in dealing with the debilitating strike when conciliation failed instead of an arm-twisting proscription as alleged by Hon Aminu Goro.
"Hon Aminu's narrative, which is really a cock and bull story, is designed maybe, to be sweet to the ears of the audience (his fellow outgoing members) and maybe, the outgoing Speaker at the expense of other patriotic Nigerians including the former President.
"He should be discouraged by all, including the outgoing Speaker, as no such incident ever happened on the Executive side, and hence, the painted scenario never took place at all.
"This is by no means to say that the outgoing Speaker and Chief of Staff designated to the President did not contribute to the resolution of the issue with ASUU. He did and passionately, too, like many others on the Government side and the traditional and Religious leaders, but the ultimate solution and relief came from the Judiciary, particularly the judges of both the NICN and the Court of Appeal, who interpreted the relevant sections of the Trade Dispute Act 2004 without fear or favour and ordered ASUU back to the classroom."