Your Action Is Insensitive – PDP Blasts Benue State Governor For Sacking Civil Servants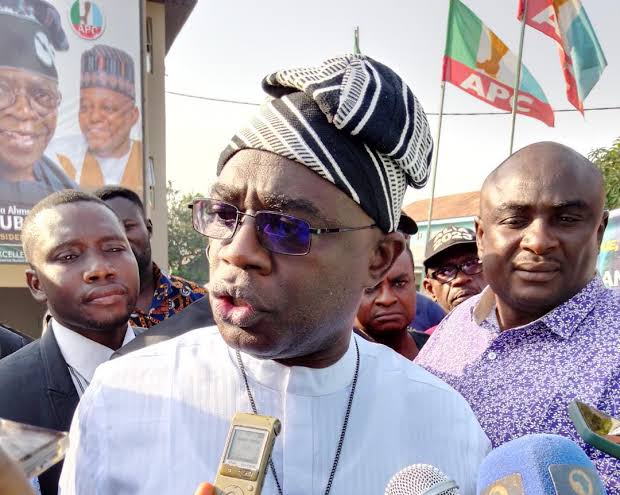 The Peoples Democratic Party (PDP) has berated the Benue State Governor, Hyacinth Alia over his directive on the sack of some civil servants in the state.
The PDP State Working Committee in a press conference addressed by its Benue State acting chairman, Isaac Mffo, described the directive as unlawful, insensitive, and callous.
Naija News recalls the Benue State Governor, Hyacinth Alia sacked some category of civil servants employed in the state by the immediate past administration led by Governor Samuel Ortom.
Governor Alia's directive was contained in a statement on Wednesday by his spokesman, Tersoo Kula.
He also ordered civil servants and persons appointed as Permanent Secretaries by the previous administration from January 2023 to date to revert to their previous positions with immediate effect.
The Governor said all recent appointments into the State Civil Service made by the outgone administration from May 2022 to date are nullified adding that the postings and transfers made in the state civil service from October 2022 to date are also nullified.
Reacting to the development, the PDP said the affected civil servants were lawfully recruited into the state workforce and it was wrong of the new Governor to deprive them of their entitlement without any consideration of their welfare and means of survival.
Mffo said, "The directive by Governor Alia which was conveyed to the public via a statement through his Chief Press Secretary this morning (Wednesday) quashed all appointments, promotions and postings made in the state civil service from May, 2022 to the time of his assuming office.
"But of particular concern to us as the leading opposition in the state is the directive that 'All recent appointments into the State Civil Service made by the outgone administration from May 2022 to date are hereby nullified with immediate effect.'"
"The insensitivity in the Benue State Governor's action becomes more glaring when viewed against the backdrop of the untold hardship which Nigerians were subjected to under the recently expired Buhari regime in the forms of catastrophic economic mismanagement and such insecurity as directly threatened the country's sovereignty."