Why We Chartered Ethiopian Airlines Aircraft – Nigerian Air Acting MD Confesses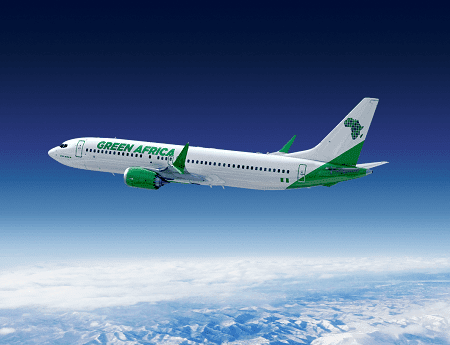 The Acting Managing Director (AMD) of Nigeria Air, Capt. Dapo Olumide, has explained why an aircraft was chartered from Ethiopian Airlines for the unveiling of Nigerian Air with a Nigerian logo.
Recall that Ethiopian Airlines ownership of the Boeing 737-800 series aircraft flown into Abuja from Addis Ababa, capital of Ethiopia, on May 26 made the news shortly after the unveling ceremony of Nigeria Air.
The aircraft was said to have taken off from Addis Ababa, Ethiopia, at 9:55 am on May 26 and landed at the Nnamdi Azikiwe International Airport, Abuja, at 12:43 p.m.
Speaking shortly after the aircraft landed, the Minister of Aviation, Hadi Sirika, expressed delight that after "a very long, tedious, daunting and difficult path", the project had taken off.
The said Nigerian Air was later unveiled with registration ET-APL at the General Aviation Terminal of the Abuja airport. The development, however, was received with mixed reactions among Nigerians, Naija News reports.
Subsequent findings revealed that the aircraft flew for its original airline up till four days before it was brought to Nigeria.
It was again gathered that it embarked on a trip from Addis Ababa to Tel Aviv in Israel.
The flight history obtained from Flightradar, a popular flight tracking website, revealed that the aircraft operated between Tel Aviv and Mogadishu, lia, still on May 21, 2023. On 20th May, it operated both Mogadishu in lia and Beirut on 20th May while the previous day, it also serviced Beirut, the capital of Lebanon.
My Mandate Was To Secure Operating Certificate Not Necessarily To Operate It
Speaking on Tuesday when he appeared before the Senate Committee on Aviation, Olumide explained that Nigeria Air had yet to secure an operating licence for full flight operations, saying that the processes were still in the early stages.
According to him, the aircraft was used pending the completion of the processes required for the airline's operation. He said his mandate was to secure an air operating certificate for the airline not necessarily to operate it but to secure a licence to fly.
"The aircraft that came in and left was a legitimate charter flight. Anyone of us here if we have a destination wedding in Senegal, we can charter an aircraft.
"You don't need to have a licence to do that, you just charter an aircraft, an aircraft you paid for it, it will be brought here, take your passengers and off you go.
"And that is what we did. But in this case, it was to unveil the logo of Nigeria Air. Ever since 2018, all you have ever seen about Nigeria Air were pictures, drawings not the real aircraft, and we thought it was time to show what the real aircraft will look like also to let shareholders see. We have institutional investors, they are not in aviation but they are putting their money for 10 to 15 years, so they need to see what the actual aircraft will look like.
"So we brought it in here to show them what the aircraft will look like, then the social media dimension came into it.
"For us to get that licence which is my mandate, we must among other things have three aircraft before the NCAA will give us a licence and those three aircraft must be Nigerian registered aircraft," Olumide noted.
He added: "So when this aircraft came on a chartered flight, everybody said we have launched Nigeria Air; there are learned people in the aviation industry who could have countered that when social media came out, but they chose not to."
Earlier, the Chairman of the Committee, Sen. Biodun Olujimi, said it was unfortunate that the former Minister of Aviation failed to involve the committee and other stakeholders in the Air Nigeria project.
"To state the obvious, he failed to carry members of the Committee along in virtually all ramifications despite the degree of respect members accorded him any time he was invited for meetings," he said.