Victor Osimhen Thanks Napoli's Coaches And Fans For Happiest Moment Of His Life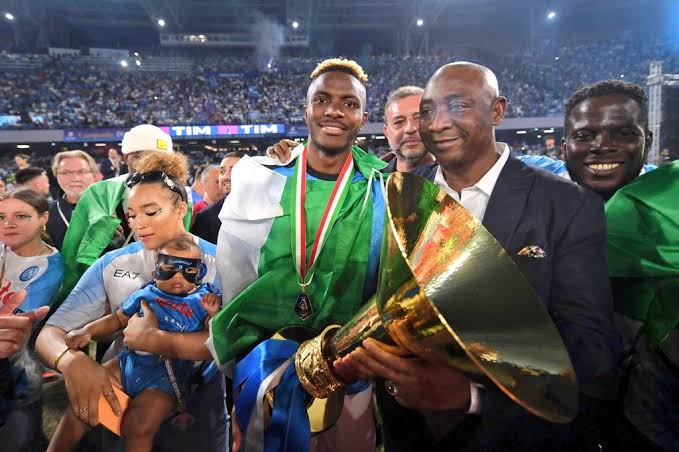 Nigerian prolific striker, Victor Osimhen has described winning the Italian Serie A title with Napoli as one of the happiest moments of his life.
The prolific Nigerian striker helped Napoli to win the Scudetto in the 2022-2023 season for the first time in 33 years. The last time the Italian team won the league title, the late Diego Maradona was playing for the club.
Osimhen did not only lead Napoli to their league triumph, he ended the season as the best striker in Serie A and the league's highest goalscorer for the 2022-2023 season with 26 goals.
But his achievements were not what made the season the best in his career, according to his Instagram post, he believes winning the Scudetto for the club was the crowning moment of the season.
Hence, the Nigeria international thanked the club coaches and the club's fans who he described as "incredible" for helping the players to achieve the milestone in the club's history.
Victor Osimhen wrote on Monday, June 5: "This is one of the happiest moments of my Life, We are the SCUDETTO CHAMPIONS!! This achievement fills me with pride and joy, and we couldn't have done it without the unwavering support of our coaches, and the incredible Napoli fans.
"This victory belongs to all of us! The journey to this huge victory hasn't always been smooth sailing, but it's the ups and downs that have shaped us into the champions we are today! We turned every moment of adversity, setbacks, and tough defeats into more motivation, hunger, and determination to keep fighting hard.
"The fans lifted us, kept encouraging us, and reminding us of the greatness we were capable of achieving. Not only that, I emerged as the best striker of the Serie A 2022-2023 season, which makes me the first African player ever to win the golden boot in league history and the first player to combine this achievement with the Scudetto since 2009. This gives me so much joy and I am incredibly humbled to have achieved this.
"To my fans worldwide, I see you all! The support, the motivation, and the love, I am super grateful. You all have always honoured me and I am proud to be a Nigerian. Thank You For The Unforgettable Journey. God Is The Greatest."