'Why Tinubu Is Yet To Appoint A Spokesperson'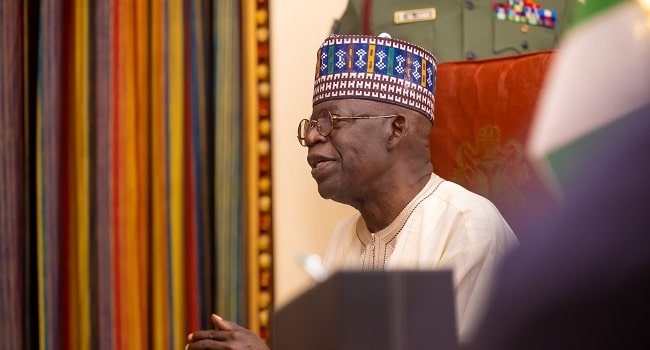 A week into President Bola Tinubu's tenure, he has yet to announce an official spokesperson.
An investigation by the Guardian reveals that the President's desire to reshape his media strategy, reflecting the new approaches he is bringing to the Presidency, has encountered resistance among his media aides.
Disagreements centre around the structure and job responsibilities of various roles.
Usually, the President is expected to announce his official spokesperson and Chief of Staff (CoS) right after his inauguration.
Tinubu was sworn in on May 29, and only on Thursday did he announce the Speaker of the House of Representatives, Femi Gbajabiamila, as CoS, and former governor of Benue State, George Akume, as Secretary to the Government of the Federation (SGF).
It appears that a new spokesperson is in the pipeline, expected to be more than just a representative for the President.
This person will be a cabinet member, privy to Federal Executive Council (FEC) meetings and granted the power to actively participate in discussions and vote when necessary.
Given this enhanced role, the spokesperson's name may appear on the list of ministerial nominees to be submitted to the 10th National Assembly, which is scheduled to be inaugurated on June 13.
A source close to Tinubu said, "The government is coming with a lot of innovations. And the media, in the presidency, will be different from what we all knew before. That is why it is taking time to be announced."
Despite the delay in announcing an official spokesperson, the source emphasized that there is no void.
Dele Alake has been serving as the acting media adviser to the President and has been expressing the government's standpoint on several issues.
Another source hinted that the delay in the spokesperson appointment is due to internal manoeuvring among Tinubu's media aides.
These aides are vying not just for the role but also for direct access to the President, bypassing the CoS, and still holding a cabinet position.
Tinubu's campaign media team included individuals like Bayo Onanuga, Festus Keyamo, Kehinde Bamigbetan, Issa-Onilu, Modibbo Kawu, and Seun Olufemi-White, in addition to Alake.
Tunde Rahman, Tinubu's personal media aide, has been issuing press statements since the President took office.
Meanwhile, Alake when asked why Tinubu is yet to appoint a spokesperson, he replied: "There is no law stipulating what time the President should appoint his spokesperson, there's even no law compelling him to appoint one."