'The Ploy Was To Implicate Ajaka' – Natasha Akpoti Reacts To Attack On Gov Yahaya Bello's Convoy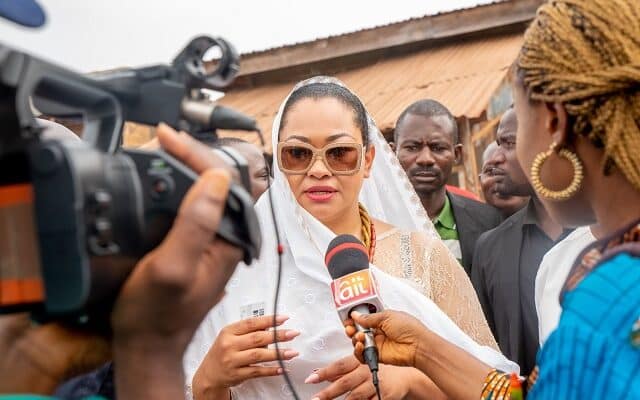 The Kogi Central Peoples Democratic Party (PDP) Senatorial Candidate, Natasha Akpoti-Uduaghan, has reacted to the attack on the convoy of the state governor, Yahaya Bello over the weekend.
Naija News reported on Saturday that Bello's convoy was attacked when he was returning to Lokoja, the Kogi State capital, from his Abuja trip.
The Kogi State Commissioner for Information and Communication, Kingsley Femi Fanwo, confirmed the incident via a statement.
The commissioner claimed that the thugs were sent by the former Deputy Publicity of the ruling All Progressive Congress (APC), Muritala Yakubu Ajaka, who is now the governorship candidate of the Social Democratic Party (SDP) in the November 11th governorship election in Kogi State.
He narrated, "The supporters of the SDP Governorship candidate, having sighted Governor Bello's convoy, blocked the road, and some of his armed thugs started shooting sporadically at the convoy of the Governor.
"A Tundra branded with the logo of the SDP and with SDP flags also blocked the Governor's vehicle, and occupants of the SDP-branded Tundra were armed with rifles and shotguns. The Governor left the scene unscathed, and there is no cause for panic as the Governor is in high spirits."
However, in her reaction to the incident, Akpoti-Uduaghan's statement on Sunday claimed that the attack was politically motivated to implicate Ajaka.
According to the PDP chieftain, who called for investigations into the matter, both Bello and Ajaka are already accusing each other of assassination attempts.
While recalling that the attack occurred on June 3 on the Lokoja-Abuja highway, she remarked that if the commissioner for information in the state, who issued a statement on behalf of the government, truly witnessed the incident, it would be advisable for him to give the security his statement rather than running to the media.
Akpoti-Uduaghan "It is a smear campaign against the Social Democratic Party (SDP) Governorship candidate, Murtala Yakubu-Ajaka.
"The attack was a ploy to implicate Ajaka to be disqualified by INEC in the forthcoming Nov. 11 governorship election.
"If she was there when the incident happened, she should better go to the law enforcement agents and give vivid account of what exactly happened.
"But if she wasn't there, she isn't fair to either Bello nor Ajaka by this accusation."