See Top 30 Most Valuable Football Clubs In The World 2023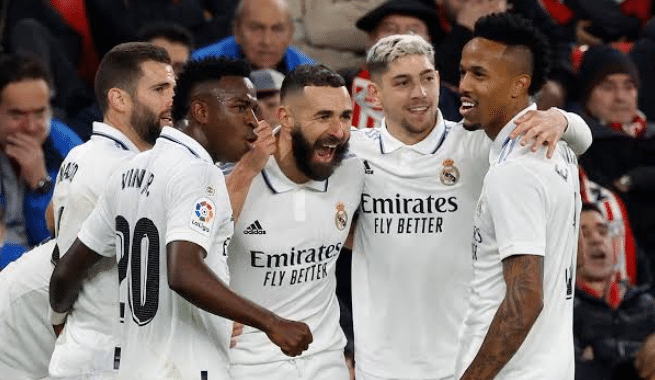 Spanish La Liga giants, Real Madrid top Forbes' list of the most valuable football clubs in the world for the 2022-2023 season.
The American business magazine says Real Madrid have a market value of $6.07 billion which is more than any other club in the 2022-2023 season.
Real Madrid, a 14-time winner of the Champions League, is ranked above Manchester City and PSG, two clubs owned by oil-rich Qatar.
Six of the top 10 teams are Premier League teams, while seven of the top 30 clubs are from Major League Soccer.
Real Madrid and their arch-rivals, FC Barcelona, are the only Spanish football clubs to make the top 10. This illustrates how financially dominating the two rivals are in La Liga.
The only club that managed to make the top 30 most valuable football clubs list from Spain is Atletico Madrid, which are ranked 13th, with a market value of $1.54 billion.
Even though Manchester City have been dominating the Premier League in the last six seasons and backed by Arab billionaires, they are still ranked 5th most valuable football club in the world.
Forbes List of Top 30 Most Valuable football Clubs
Real Madrid (Spain) – $6.07 billion
Manchester United (England) – $6 billion
Barcelona (Spain) – $5.51 billion
Liverpool (England) – $5.29 billion
Manchester City (England) – $4.99 billion
Bayern Munich (Germany) – $4.86 billion
PSG (France) – $4.21 billion
Chelsea (England) – $3.1 billion
Tottenham Hotspur (England) – $2.8 billion
Arsenal (England) – $2.26 billion
Juventus (Italy) – $2.21 billion
Borussia Dortmund (Germany) – $1.93 billion
Atletico Madrid (Spain) – $1.54 billion
AC Milan (Italy) – $1.4 billion
West Ham United (England) – $1.08 billion
Inter Milan (Italy) – $1.03 billion
LAFC (MLS) – $1 billion
LA Galaxy (MLS) – $925 million
Atlanta United FC (MLS) – $850 million
Crystal Palace (England) – $806 million
New York City FC (MLS) – $800 million
Newcastle United (England) – $794 million
Leicester City (England) – $781 million
Aston Villa (England) – $756 million
Everton (England) – $744 million
Lyon (France) – $734 million
AS Roma (Italy) – $724 million
DC United (MLS) – $700 million
Toronto FC (MLS) – $690 million
Austin FC (MLS) – $680 million