Presidential Tribunal: Peter Obi, Abure Arrive In Court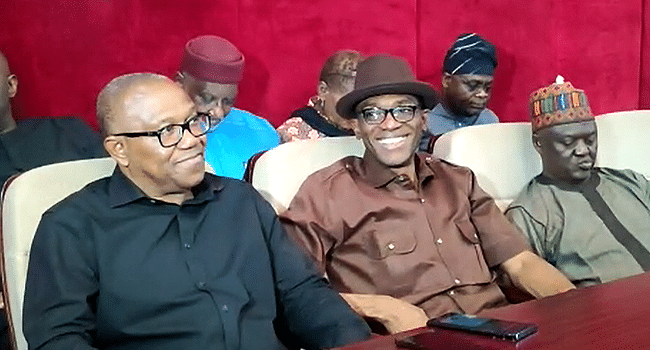 The Labour Party (LP) presidential candidate, Peter Obi, and the party's National Chairman, Julius Abure, are currently in the Presidential Election Petitions Tribunal in Abuja.
Obi and his party are disputing the victory of President Bola Tinubu and the All Progressives Congress (APC) in the election held on February 25.
During Thursday's proceedings, the Labour Party candidate presented results from 115 local government areas (LGAs) as evidence to support his claims.
However, the respondents opposed the evidence put forward by the Labour Party candidate.
Naija News recall that the court on Thursday criticised Obi and LP for their unpreparedness in the case filed against Tinubu's election victory.
During the session on Thursday, a senior lawyer on the petitioners' side, Emeka Okpoko, attempted to submit electoral documents as evidence, but they were not appropriately filed and scheduled according to court protocols.
The court temporarily adjourned the session, instructing the petitioners' team to properly re-file the documents. Yet, upon resuming, their preparations still seemed insufficient.
Presiding Justice Haruna Tsammani, leading the five-member panel, advised the petitioners to request an adjournment to better organize their documents.
Eventually, the issues were sorted out and the petitioners submitted electoral documents from six states.
In the filed petition, both the petitioners and the respondents are set to call upon 83 witnesses in total.
The court has set a timeline from May 30 to August 5 for the different stages of the case, including presenting evidence and adopting final addresses.