Wike, Makinde Speaks After Meeting With Tinubu In Aso Rock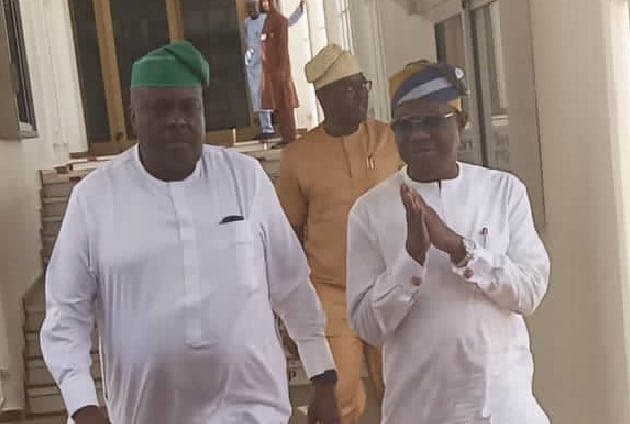 The former Governor of Rivers State, Nyesom Wike has publicly backed President Bola Tinubu's contentious decision to remove fuel subsidies, acknowledging that leading a country like Nigeria is a challenging task.
Wike voiced his support during a brief interaction with state house correspondents on Friday.
Naija News had earlier reported that the former Governor along with the Governor of Oyo State, Seyi Makinde, and the former Governor of Delta State, James Ibori, had earlier met with President Tinubu at Aso Rock.
When questioned about the purpose of the visit, Wike explained, "There's no big deal about it, the governor of Oyo has told you what we came to do; to give him support. We are supporting all the decisions he's taking, it shows that he's prepared for the job and there's nothing bad about that. It requires tough decisions for a country to move forward."
When asked if he was contemplating leaving the Peoples Democratic Party (PDP) for the All Progressives Congress (APC), Wike simply cautioned, "Don't say that."
Meanwhile, Governor Makinde affirmed that they had visited the president to convey their support.
On the fuel subsidy removal, he stated, "Yes, we discussed it. It's something that is on top of public discuss right now. We know it's a tough decision for the people and he needs the support of everybody to see this through."
Both Makinde and Wike, leading members of the G-5 group established during the 2023 pre-election turmoil within the PDP, played key roles in President Tinubu's election victory on February 25, 2023.
President Tinubu, during a visit to Rivers state last month, openly praised the then-outgoing Governor Wike.