Abdulaziz Yari Meets NNPP NWC Over Senate Presidency Bid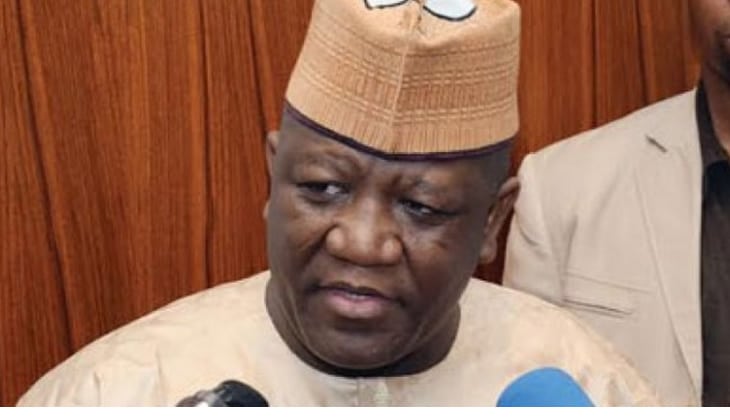 A former Governor of Zamfara State, Abdulaziz Yari, has met with the National Working Committee (NWC) of the New Nigeria Peoples Party (NNPP) in his quest to become the 10th Senate President.
Recall that the National Working Committee of the All Progressives Congress (APC) had adopted Senator Godswill Akpabio and Jubrin Barau as the preferred candidates for the position of Senate President and Deputy, respectively.
Speaking on Thursday night during a meeting with the NNPP leadership, Yari said Nigeria's Constitution remained supreme and he is very committed to the Nigerian project.
The Zamfara Senator-elect said he would continue to speak with relevant stakeholders because he strongly believes that the Constitution is going to prevail.
He asserted that he is encouraged to continue his quest for the number three seat by the President's speech that he is going to rule Nigeria according to the country's law.
Yari, who was accompanied by Senator Osita Izunaso, said he would visit the leadership of the Peoples Democratic Party (PDP), Labour Party (LP), and other opposition parties to solicit their support.
He said, "The constitution is supreme to any other law. Any law that is not in tandem with the Constitution is null and void. We are very committed to the Nigerian project. We strongly believe that the Constitution is going to prevail.
"We are going to get to the floor of the House and the election will take place. And knowing that it is a democratic setting, we need to be having this kind of engagement.
"This is my first place of call. But I will also visit other parties; Labour Party, SDP, PDP, APGA, and YPP and seek the support of their members on this project.
"That is to show to you that the 10th Assembly is completely different in that we knew that we have 7 parties. The vote of every party counts and it is critical to us.
"We are going to continue with this struggle until we get there. It is not over until it is over. The most important and encouraging is the president's speech that he is going to rule Nigeria according to the constitution of Nigeria."
In his remarks, the acting national chairman of the NNPP, Abba Kawu-Ali, described Yari as a competent leader "capable to occupy the sit of the senate Presidency."
He said, "Yari has shown his capacity as a two-term governor of Zamfara State, we are confident that when you get there you won't fail."